Rome
Monday April 25, disembarkation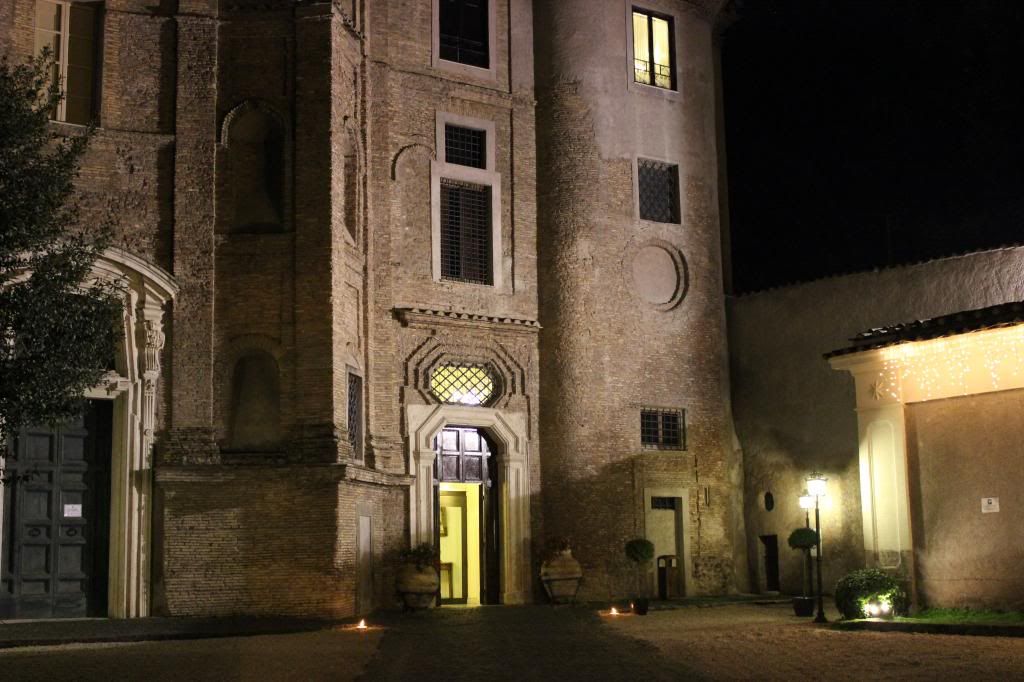 Hotel Donna Camilla - Trastevere neighborhood
Share Transfer to Rome Airport (FCO) - (Edward50)
My spouse and I will be looking for 4 to 6 cruise mates to share a transfer from Port of Rome (Civitavecchia) to Rome airport.

On our last trip to Civitavecchia we transferred with Celebrity by bus and the cost was almost 70 euros per person. This time we are looking at taking a large van with Civitavecchia Cab Service. They have a great reputation on TripAdvisor. The price is much more reasonable and they do not add a holiday surcharge. Depending on numbers of persons in our group, the transfer will cost about 22 to 25 euros per person. No down payment is necessary.

My plane for Dublin leaves at noon so we would like to leave for CO at approximately 8:00 am. The departure time is a bit flexible but as this is a holiday and a one hour ride, I would like to arrive with some breathing room.

For further details, please email.
Rome in Limo Tours- Tour
I LOVE the idea of this tour for our first day. Especially if you have been to Rome before. 5 hour GOLF CART TOUR. *They are an EXCELLENT tour group. Rome Overview Tour
This tour is designed for those who wish to enjoy any number of Rome city site in a comfort of a simple golf cart to be able to get around the squares, fountains, artisan shops, narrow streets and also the subterranean Rome which all give Rome an incomparable character. The guide will pick you up where ever you wish in the center of Rome to see the old part of town, which is one of the most livable and walkable urban areas in Europe. Squares, fountains, artisan shops, narrow streets with restaurants, cafes and ice cream parlours give Rome incomparable character. Visit all major piazzas and fountains, stop on the way at churches and fountains, discover the best coffee and the best ice cream in town, visit the craftsmen at work and learn your way around to return later for private in depth exploration.
Up to 3 people - 500 euros
Up to 5 - 600 euros
Up to 7 - 700 euros
Let me know if interested Nadine (motherchic) nmesch@cinci.rr.com
Travel tip for ROME airport - from coolcruisekids
We just got back from Rome and this is how we got to the airport (Fiumicino)

1.From the Port of Rome you can take a bus to the train station. Outside of cruise terminal.
15-30min wait + 10min ride.
Bus doesn't run between 11:30-13:30ish? (crazy lunch hours I guess)
Price is 2-4 euros pps plus luggage is extra.

2.Then catch a train to the airport. (non-express train) Transfer required.
Train times are subject to change so plan ahead.
Took us about 45min -1hour.
Price is about 14 euro pps.
Transfer - TroubleT
I will be booking a transfer from Civi to Rome on April 25. Last month we used Bob's Limos in Rome and it was easy and very affordable. Please let me know if you would like to join/share. The price depends on the number of people.

I am also looking at the following tours from Rome (we are staying 2 extra days in Rome):

http://www.darkrome.com/tours/rome-tours/frascati-wine-tasting-tour

http://www.darkrome.com/tours/rome-tours/tuscany-from-rome-excursion-montepulciano-wine

It would be great to share the tours with a group of fellow cruisers.


Please contact me if you are interested.

Tatiana
Airport Transfer- Dunmore2
I have booked a shuttle for April 25 leaving the port at Civitavecchia at 7:45 going to FCO. The cost will be 20€ per person, including all luggage. It's with Civitivecchia Cabs, who we successfully hired this past April/May.

Their van comfortably holds 8.

Email me or respond here on the roll call if interested.

mjalynch@shaw.ca
Hotel Transfer- D&B -
We have a reservation with Romeinlimo for transfer from the port to individual hotels in Rome at 9:00 a.m. (for people who are staying on for a few days). We've used their services several times before and have always been happy. We have room for 2 more, for a total of 6.  It works out to about 38.5 Euros each for 6 people and 3 hotel stops, less if there are only 2 hotel stops. If anyone is interested, or has questions please let me know.
Airport Transfer- GinnyJo
We have room for 2 more on an early van service to Rome's FCO airport, departing the ship at 7:30 am. Cost is 23 euro per person. Please email me at virginia dot m dot roberts @gmail.com if you are interested.
Anyone interested in airport tranfer around 8:30 to 9:00 am after disembarkation. Cost is approximately 22-26 Euros per person depending on number of people. Please email ythate@yahoo.com if interested.
Hi, I am looking for another couple interested in joining us as we do a post cruise tour April 25 prior to checking in to our apartments in Rome. We are in the process of arranging a the following tour.

We can arrange a Mercedes minivan to meet you at the port, take you in to the city for a private tour to visit St. Paul's ( Abbazia di San Paolo Fuori Le Mura) and San Callisto Catacombs or Catacombe di Domitilla and Appian Way and we drop you off in 3 different hotels or apartments. The total for 6 will be 550 euros. I think this rate is a break if we prepay by wire or visa. This tour is with Rome in Limo. I have asked the number of hours needed to enjoy this tour but have not received an answer yet.


We are two couples that have met on Cruise Critic working to get transfers to our apartments on Via Guilia and Via Settembre. If you are interested in joining us, please email me at USCBRUCE80@aol.com.
A Taste of Estaccio Food Tour - DIY

These are not organized tours but several of us are attending
A Taste of Testaccio Food Tour: www.eatingitalyfoodtours.com
Tuesday, April 26, 2016 @ 10:30am
Tour of Rome from Civitevecchia - NYerInExile

I have arranged the following with RomeInLimo

On Monday, 25 April we will be picked up at the port at about 0900 and will do a 5-6 hour tour of the highlights of Rome (but not including Vatican City), followed by drop off at our hotel. We are looking for one other individual or couple to join us. The final cost depends on the number of participants. For 4 people it would be approximately $125 per person.

Tour description. After you are greeted by your English speaking driver at the port you will make your way to the historical center of Rome passing the National Monument of Vittorio Emanuele II in Piazza Venezia to the splendorous of Ancient Rome. Your driver will take you on top to the Capitoline hill for you to start with a view of the Roman Forum, a great stop for a memorial picture, then a drive to the Coliseum, the largest Amphitheater ever known in the ancient world, your driver will give you explanations on it before you enter and explore it yourself. From here, you will continue on passing the Palatine hill and the the Circus Maxims and of course with a stop at the glorious Pantheon, built in the 1st century, a fantastic architectural inspiration to artist from the renaissance period to the modern times. You will of course have time to explore the main squares of the city as we, such as Piazza Navona, Spanish steps and not to mention the Trevi fountain.

If interested email me at jimkipers at g mail dot com.

Tour and Transfer- seacruiser1203
I have set up a new tour of Rome with transfer from the port and drop at your local hotel. This tour includes the Vatican and is on April 25th. You can read the info below and email me directly if you are interested. My email is: mailtobfry@embarqmail.com. The tour is with ItalyTours.EU
Shared group tour to Rome from port for only 99 Euros per person – plus 10 E pp surcharge for hotel drop off. We need a minimum of 6 persons to guarantee the tour and maintain this price. The tour can take up to 8 persons. Please email me of your interest or you can book with Frye tour (seacruiser 1203) group using the link below. This tour has been recommended by both Trip Advisor and on the CC board.

www.ItalyTours.EU Contact Oscar


BEST OF ROME & VATICAN – Comprehensive Tour of Rome with Skip-The-Line ticket options to sites:
Meet your private driver next to your ship at the Civitavecchia port. Using our new mini-vans, we will whisk you directly to a tiny independent country called the Vatican City(We use mini-vans for an easy access to sites & minimal walking). Our expert, English speaking guide will greet you as soon as you arrive at the Vatican Cityand you will skip-the-line to the Vatican Museums. Our guide will introduce you to some of the most precious and famous art in the world, as well as the must-visit Sistine Chapel. Next, sneak a peek at St. Peter's Basilica where you will again skip-the-lines to discover Michelangelo's Pieta as well as St. Peter's Square. After the Vatican tour, we will continue to explore Rome with our English speaking driver. We will drive to Circus Maximus for a spectacular view of Palatine Hill and we will include an optional inside visit to the colosseum. Here too, you may skip-the-line by purchasing in advance, skip-the-line tickets to the colosseum and you may tour inside on your own. Cost is 16 Euros per person and the tickets include entrance to the Roman Forum and Palatine Hill. We will complete the Rome city tour by visiting the most iconic Piazzas of Rome: Piazza di Spagna (Spanish steps), Piazza Navona & Piazza Venezia and the Vitorio Emanuelle Monument. Of course no visit to Rome is complete without including Fontana di Trevi(make sure to drop a coin!). Time permitting we will include the Pantheon.
Please note that unlike most small-group tours from this port, on our shore excursions, you will enjoy the services of an expert guide when in Rome. We do not recommend covering the Vatican on your own. Enjoy a quality service instead with one of our excellent expert guides and skip-the-line to sites.

On This Small-Group Tour You Can Expect:
*Personal pick-up from the port of Civitavecchia (the same pick-up as offered for the ship's tours)
* Touring in a mini-van for minimal walking and access to sites
* High quality and personal experience in semi-private tour settings (Max. 8 guests per mini-van & 16 guests per expert guide in the Vatican)
* Tour duration: 8-9 hours
* Cost of the Vatican Skip-the-Line tickets: 24 Euros per person
* Cost of the Colosseum Skip-the-Line tickets: 16 Euros per person (optional)
* Fantastic itinerary for the day - First Class small-group excursion
* The order of sites visited may change on Wednesdays
Ten years ago when we were in Rome we took a private tour of the Vatican with a licensed tour guide and it was wonderful. I have arranged another private tour of the Vatican for Tuesday, April 26th which is the day after we disembark from the cruise. I have researched a hundred Vatican tour guides and I have selected Agnes Crawford who owns Understanding Rome Tours. The 3 to 3 ½ tour will begin at 2.30pm at the Vatican. The cost of the tour is 340 euros for 4 people plus the entrance fee to the Vatican which is 20 euros per person, including "no line" reservations. That is 105 euros per person.
TripAdvisor has 87 customer reviews for Agnes. 85 Excellent and 2 Very Good.
I have booked the tour. If there is another couple that would like to equally share the costs and join us please let us know. My email is garda19@aol.com.
Rich

The Itinerary: The Vatican Museums have their origins in the private collection begun by Pope Julius II in the early 16th century. Central to the art of the High Renaissance, Julius provides us with a theme through which to explore the art of the Vatican. Amongst his collection are sculptures which were to provide Michelangelo with inspiration for the paintings we will see in the Sistine Chapel.
After looking at some of the major pieces of the collection of ancient sculpture, we will pass through the Gallery of the Tapestries and the Gallery of the Maps, bombastic in its expression of late-16th papal power, which lead us to the Vatican Palace.
The oldest nucleus of the structures which grew up around St Peter's Basilica, the Vatican Palace is home to the apartments painted for Julius II by Raphael, and of course to the Sistine Chapel, the private chapel of the popes, and the place of their election. Here Michelangelo spent almost ten years of his career painting both the vast ceiling and the Last Judgement on the altar wall, two of the great icons in the history of western art.
Leaving the museums at the Sistine Chapel, we shall visit St Peter's Basilica. The church was first constructed by the Emperor Constantine in the fourth century and rebuilt in the 16th and 17th centuries. The altar of the Popes, above the tomb of Peter and beneath the dome, is marked by a vast bronze "baldacchino" by the great driving force of the Roman Baroque, Gianlorenzo Bernini. St Peter's also contains the beautiful Pietà, the first major piece of Michelangelo's prolific career.

About Agnes Crawford: My name is Agnes Crawford. Originally from London, I graduated from Edinburgh University with a Master of Arts degree in Architectural History in 1999. I moved to Rome in 2000, married a Roman, and have lived here ever since. I am a licensed guide with thirteen years' experience.
I am passionately enthusiastic about the city, and believe that by Understanding Rome your visit will be both more meaningful, and much more enjoyable. As well as exploring Rome at your own pace, and focusing on what interests you, Understanding Rome is also about where to take your coffee, the best places for gelato, and where to shop. I will be delighted to help you feel as at home in Rome as I do. Understanding Rome holds a 2014 Trip Advisor Certificate of Excellence and is recommended by The New York Times, The Daily Telegraph, Condé Nast Traveller's Rome App, The National, Cathay Pacific's Discovery Magazine, Forbes Travel Guide, and the Sydney Sun Herald.

Some Reviews from TripAdvisor
Vatican in the afternoon"
Reviewed July 27, 2015
Agnes was waiting for my family on the entrance steps for us. She is a true historian and loves to tell the story. Our 18 and 20 year old children were thrilled with her knowledge. When we return Agnes will be first on the list to call for the museum visits! I would highly recommend Agnes for touring Rome. She also is an expert in getting through the crowds which is well the worth the price.

"Our perfect tour of the Vatican provided by Agnes Crawford"
Reviewed June 3, 2015
My sister recommended Agnes to my husband and me when we made our first trip to Italy in the Fall of 2014. We are not usually "toury-types" but our tour of the Vatican with Agnes was incredibly insightful and the hours passed quickly since she is so engaging and intelligent. We will continue to recommend her to our friends and look forward to meeting up with her on our next visit to Rome. Thank you for an amazing experience!

"Agnes gave us exactly what we asked for"
Reviewed October 18, 2014
Agnes gave 4 of us a half-day walk through the Vatican. We were much more interested in the structure and the art that is part of the structure than we were in the art in the museum. We wanted to see and learn as much as possible in the short time we had. Agnes' knowledge is extraordinary but she was also able to adjust to what we wanted as soon as we told her. We really appreciated that she stopped for a break in the middle of the walk and set with us to introduce what was to come and to make sure she was on track with what we wanted from the tour. Thanks, Agnes. A great day

"Best tour of our trip, by far"
Reviewed December 18, 2013
My wife and I made our first trip to Rome in November. We stayed 9 days and toured many, many sites. Our favorite tour was the Vatican and Agnes made was a big contributing factor. We not only learned alot but we were able to focus on the most important and most interesting aspects of the Vatican. Plus we learned so much history from Agnes. There wasn't a question we asked that Agnes couldn't answer. In addition, Agnes gave us recommendations for restaurants near our hotel and other sites we should be sure to tour.
Private Tour of Colosseum - Retprof
My wife and I are looking for 2-4 people to join us on a private tour of the Colosseum on April 25th at 2:00 PM. The tour begins in Rome and is offered by Walkingtoursofrome.com. We are planning to take a shuttle to our Hotel in Rome after the cruise. We are waiting for a response before we book. You can contact me at bhaimson@comcast.net. Tour description is given below.

The Colosseum Tour takes you through the highlights of the ancient city of Rome. You will see not only the interior of the Colosseum*, but also the Roman Forum, the Emperors' Palace, walk up the Capitoline Hill and much more. If you are curious at all about the history of Ancient Rome, this is one tour you do not want to miss!
Pre-booked Colosseum tickets are 14€ per adult, a 2€ reservation fee per child, and possible discounts for students and seniors.
Half-day tours begin at 9am or 2pm (8.30am or 2pm for the Colosseum tour).
The price of each of our private, guided half-day tours is 170€ for 2 or 200 euro for 4 people+ the admission tickets.
Ship to Rome via Tivoli Gardens - explor67
Offer a small-group transfer led by an English speaking driver-guide who will give you orientation and will wait for you for the entire day (while you tour the 'Villas' on your own or hire a local expert guide if wanted).
The cost is only 69 Euros per person!
(with minimum 8 persons signed up & maximum 12 guests touring – for the hotel drop off there is 10E per person surcharge).

Kindly see the itinerary below:

TIVOLI GARDEN VISIT – Beautiful Place.
Special Chauffeured Service to site.

This is a self-guided visit basic orientation. I happen to be knowledgeable. Our driver will meet us next to your ship and will whisk you and your luggage to the Tivoli Gardens which are 90 minutes away from port.
There are two 'main 'villas' to be visited, Villa d'Este & Villa Adriana.
You may consider around 90 minutes per 'villa' and the visit of both is possible as they there are situated next to each other.
Entrance tickets: 8 Euro per person per Villa.
After your self-visit to this site, you will be taken to your Rome hotel.

On This Small-Group Tour You Can Expect:
* Personal pick-up from the port (the same pick-up as offered for the ship's tours)
* Personal drop-off at a hotel specified by you.
* English speaking driver for the day
* Air-conditioned, mini-vans for the door to-door-service
* Total service duration 8-9 hours - subject to actual arrival and departure times of the ship
* Maximum number of people per van: 12 guests

Need to supply Oscar (see below) or me (lindakirsh@gmail.com) the following details:

* Full names of all persons touring
* Optional - your mobile/cell-phone number

We look forward to welcoming you at the port of Rome for a wonderful and memorable time!

Best regards,
Oscar
ItalyTours.EU
www.ItalyTours.EU
Quality touring in amazing Italy!
Updated March 16, 2016