Celebrity Eclipse - April 2015 15 Day Transatlantic Cruise

Page 4



The Azores

April 30, 2015- Ponta Delgado, Azores

Yeah - solid land!

Karen and Les were our CC contacts for our organized tour. Karen is a great organizer. I think she could herd cats if she had to!

The tour was through Green Visions I think. The tour guide's name was Hugo Melo. He was both our guide and our driver.

So... all I could say about this tour is that it rained and rained and rained. So.... we had umbrellas in hand, our rain gear ready and we were determined to see what the Island had to offer, bad weather withstanding.

View of the port from the Ocean View Cafe
Hugo spoke with us about the planned tour to drive up and see the views. With the rain and clouds though, he advised you couldn't really see anything . So we changed plans.

First stop was a local pottery called Ceramica Vieira. Loved the pottery. Many of the tiles reminded me of Catalina Island off the California coast.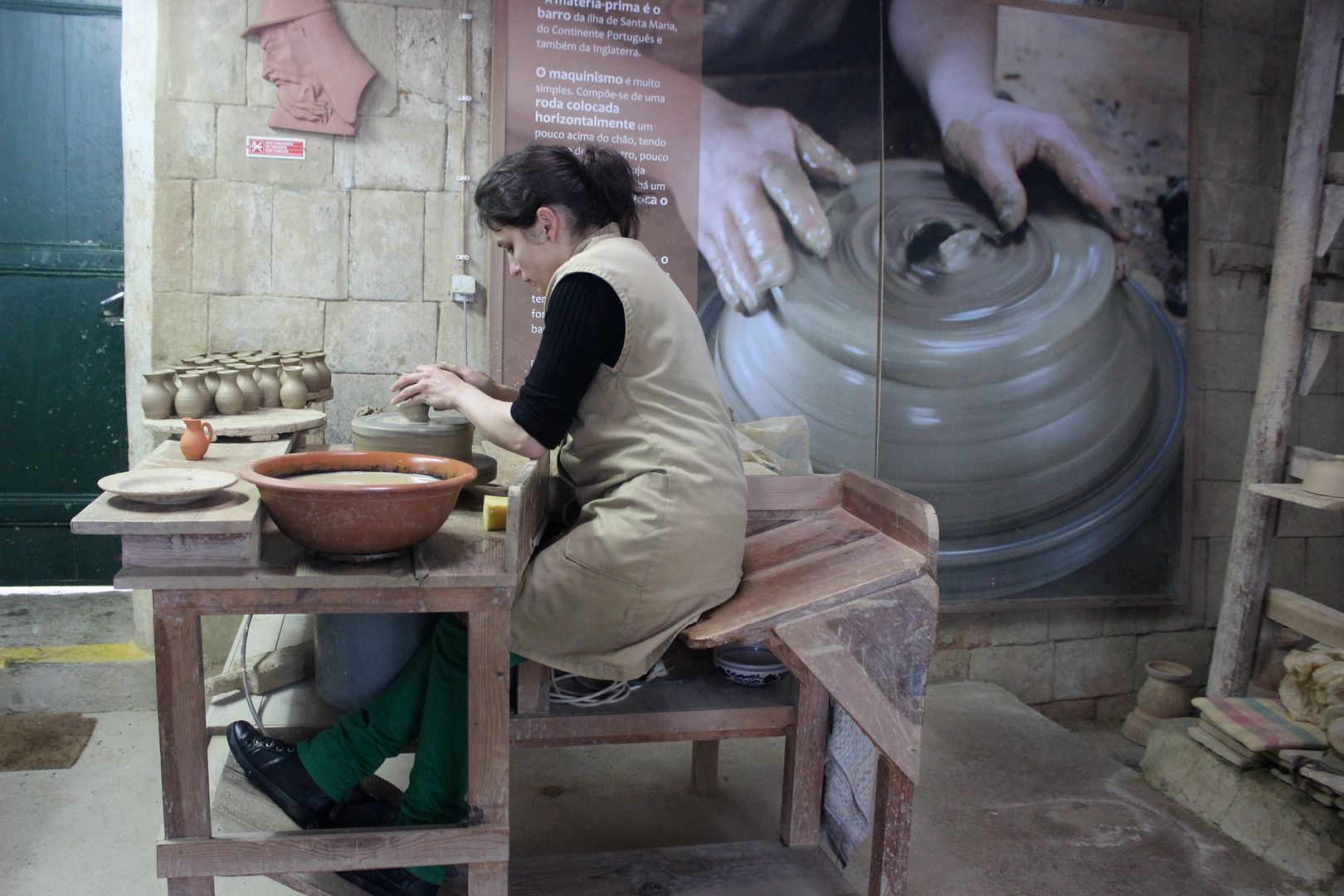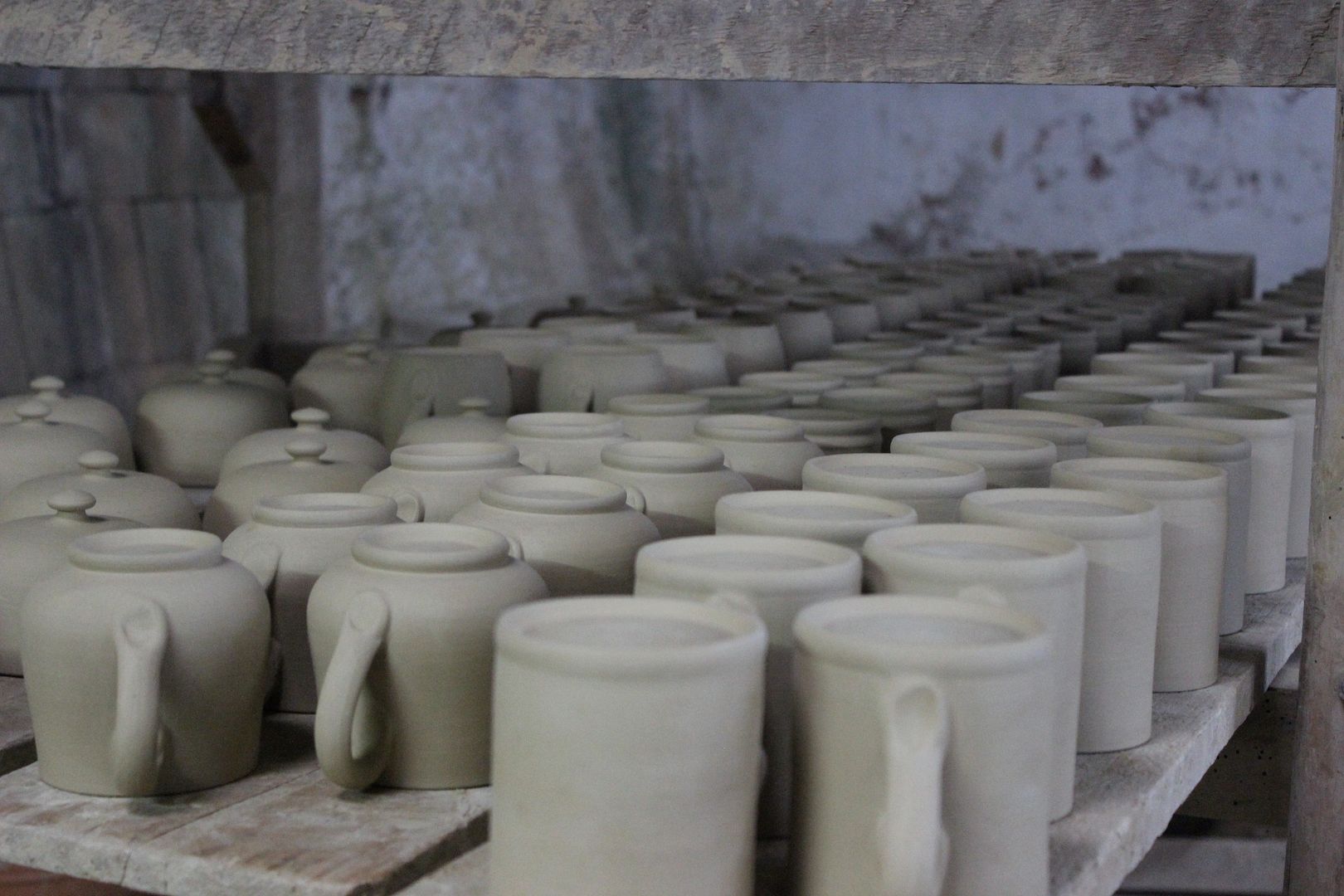 Of course we had to go to the gift shop. If only I had room in my luggage!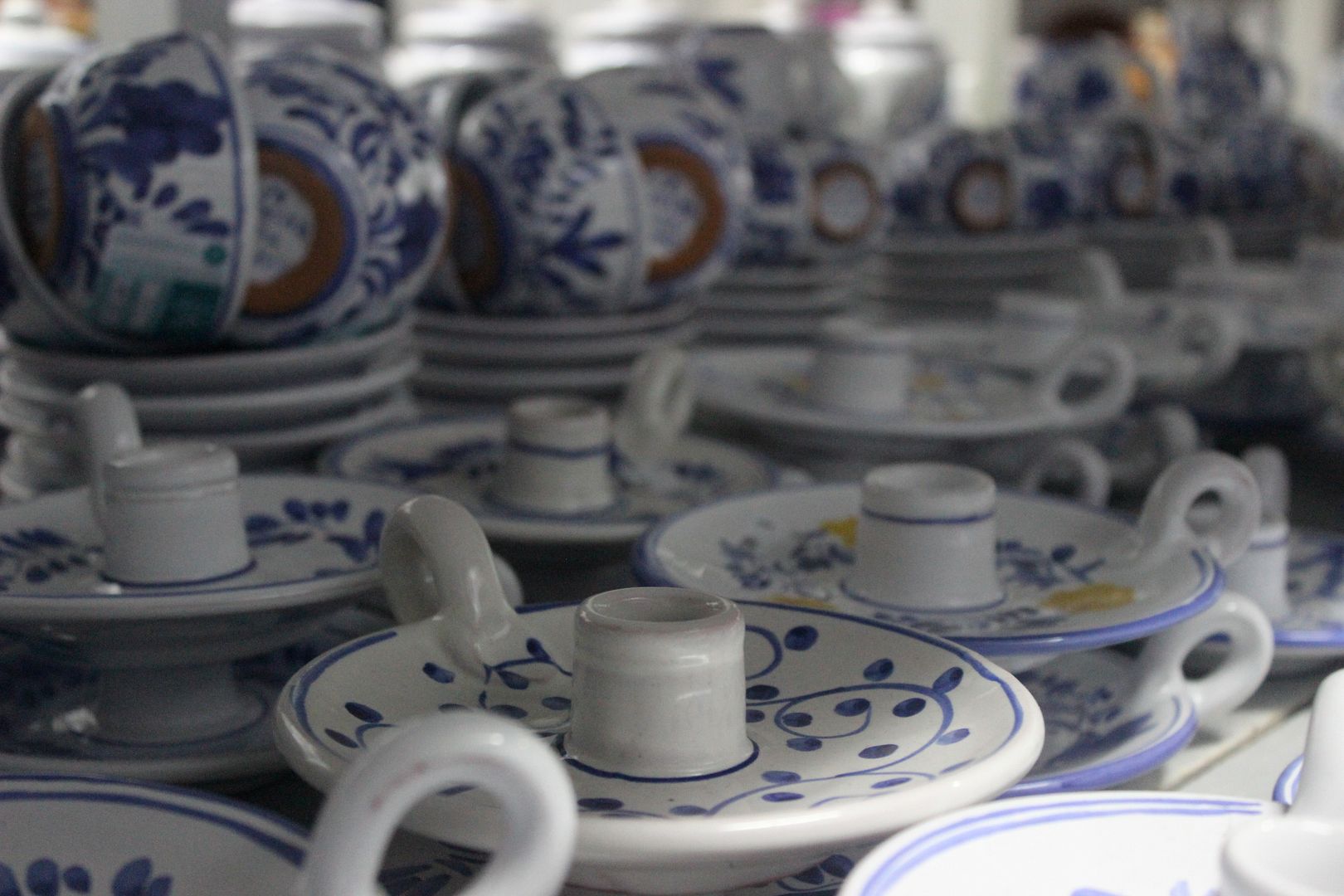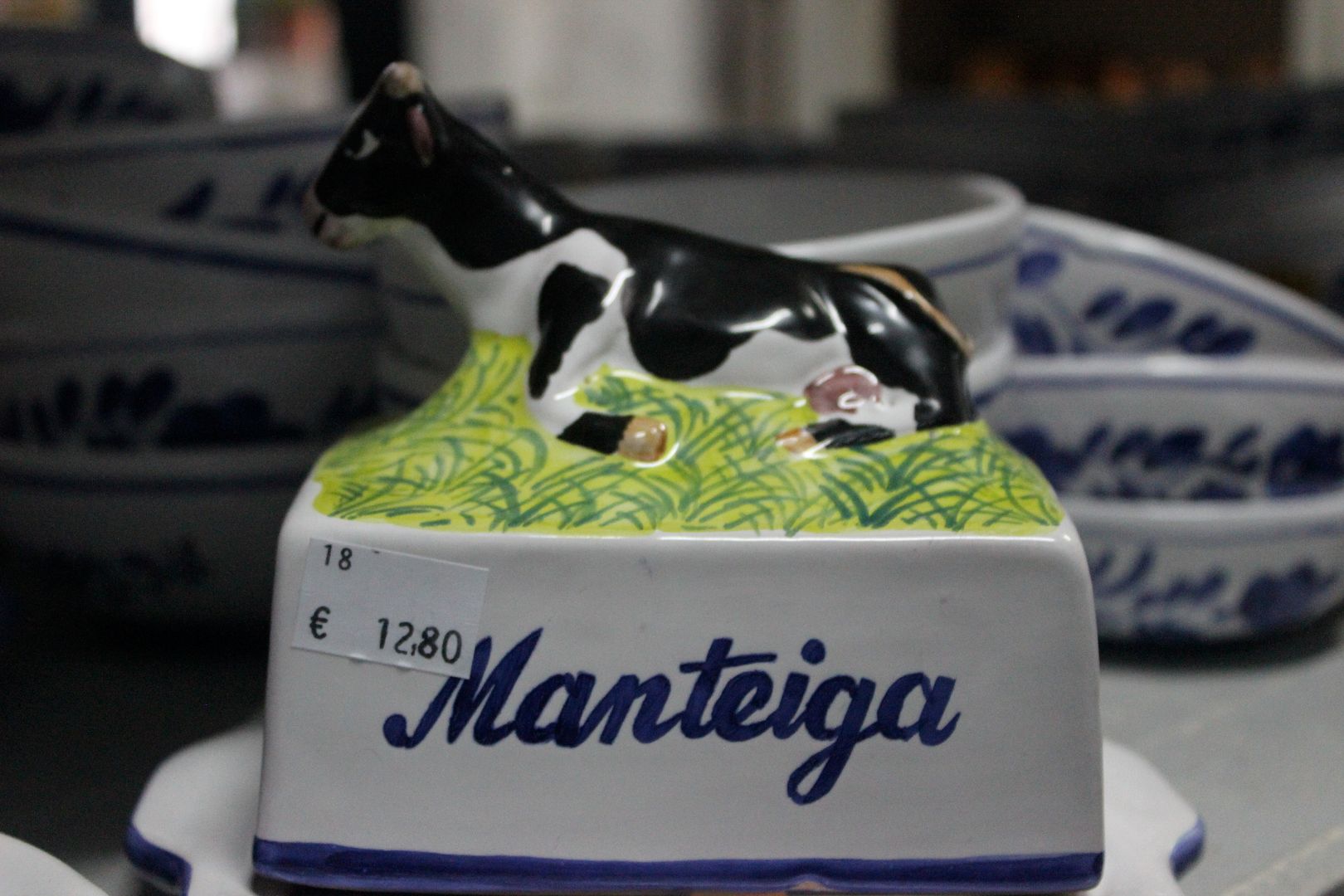 Pictures from outside or around the pottery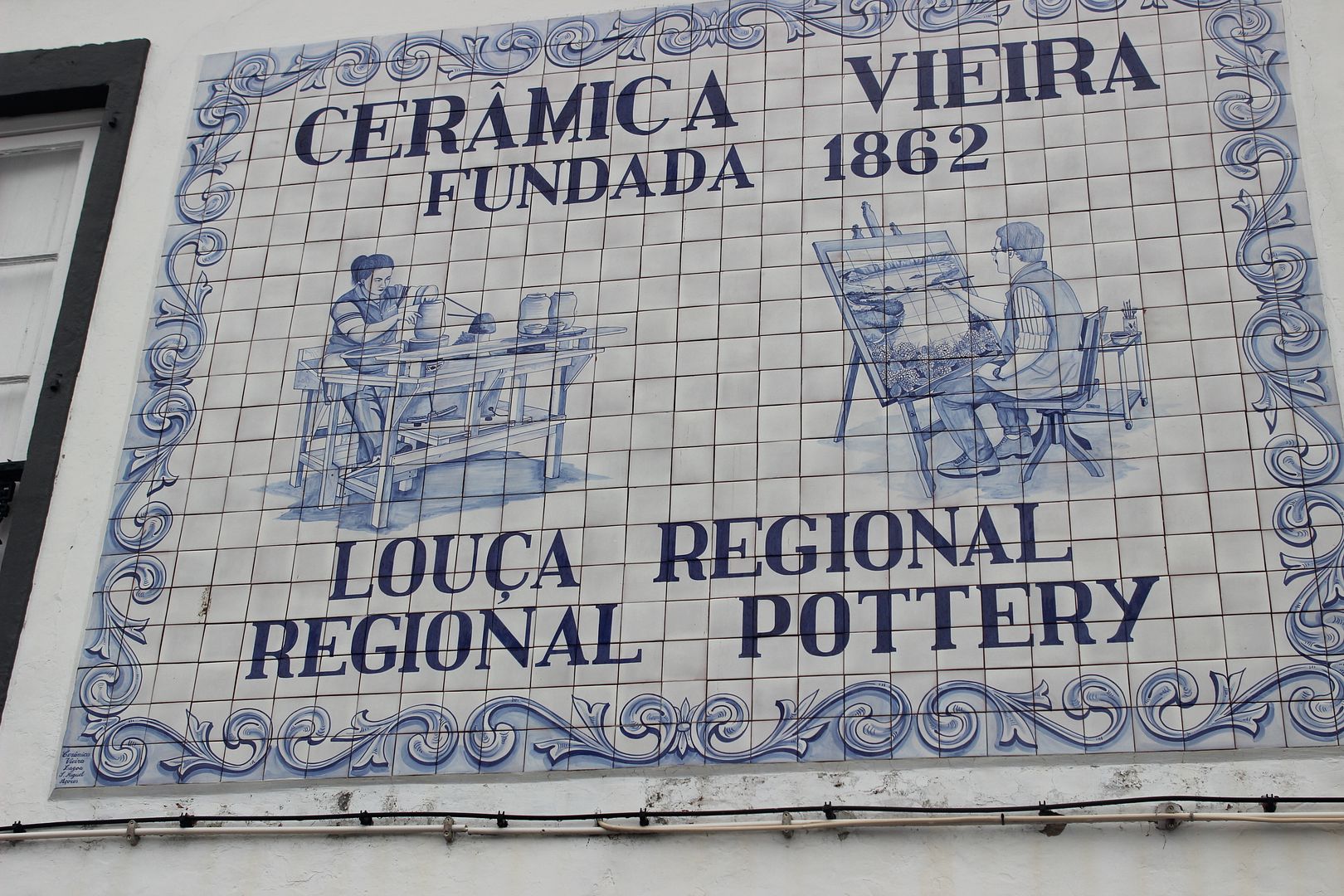 We loaded into the van and set off to see more sights. Hugo was wonderful and drove to some photo stops also allowing us to stop along the way when we asked so we could see more of the countryside.
I'm not sure what this place is called, but we stopped for some ocean pictures.
Boat Ramp - yes, on vacation I think everything is picture worthy.

At then end of the pier was a swimming pool. Hugo said it was for the children to use.

Interesting color in the water
Even in the gloomy rain, I think its beautiful here
So... back in the van to drive but going slowly behind another vehicle
We drove to the hot springs and parked. In the parking lot, these 2 were there to greet us. They were not shy.
This was probably very nice on a sunny day. There was a lake very close, but hard to see in the rain.
At first glance, this looked like a bunch of snakes, but it was only tree roots.
Notice the waterfall at the top, the hills and the hot springs. Very interesting place.
Some were water, complete with warning signs as it was hot enough to burn....some were mud.
There was a section where they had built concrete casements to drop in large p ots to cook using the heat of the hot springs. I almost had a photo of them pulling out a large pot but someone stepped in my way.

Lesson - always stand as close as possible so people can't walk in front of you. I'm sure we were all so focused on the sights that it is easy to do.

Back in the van (we are VERY wet and cold at this point) and off to our next stop.

Photo along the drive (its not easy to take a photo through a window covered in rain!
Out next stop was a tea plantation. Little did I know what an impact this would have on Terry. At least he is drinking more tea, less soda!
Here is Hugo explaining how the old drying racks were used.
Here is the plantation we toured - Gorreana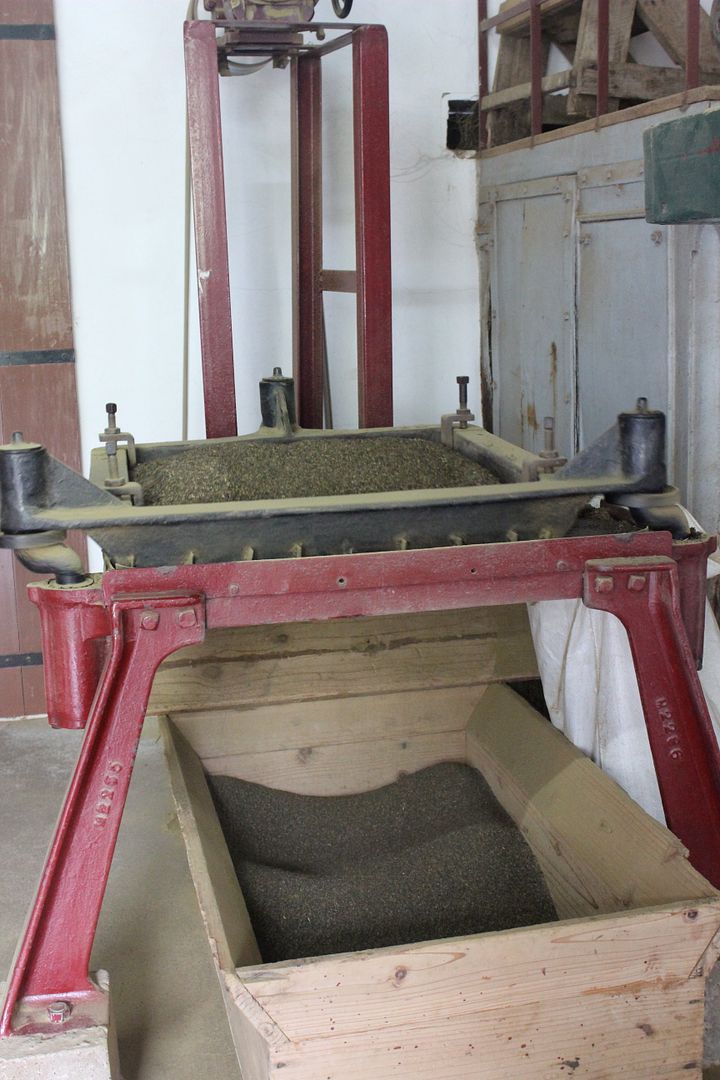 I wish the weather had been better so I could see the fields where the tea grows.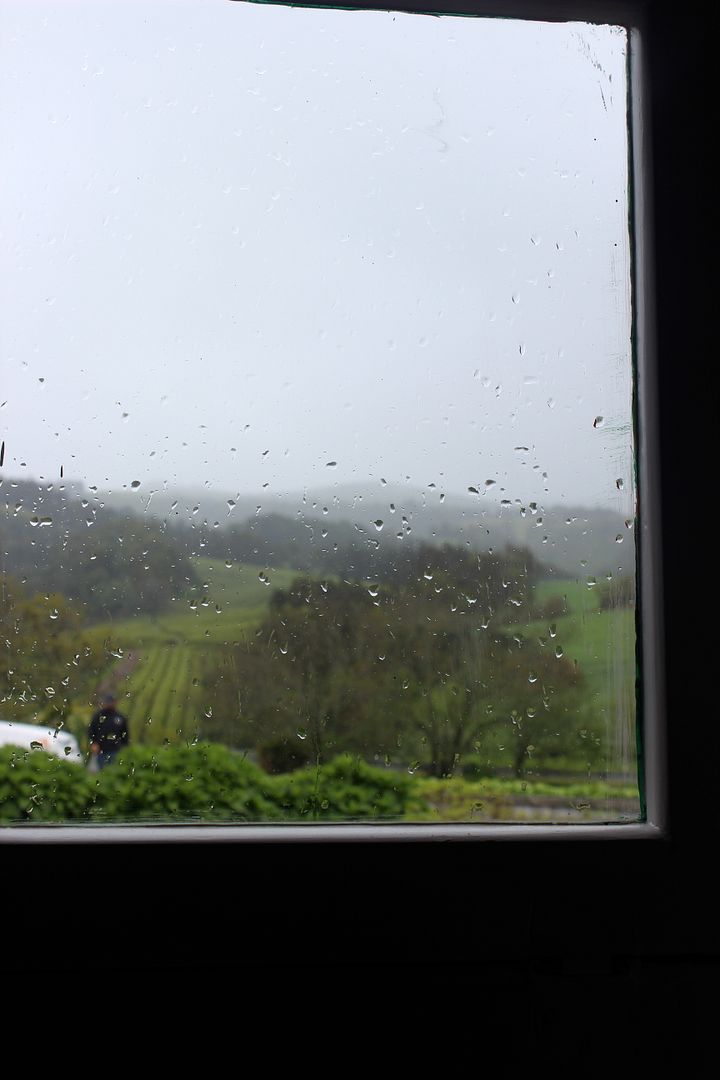 At the end of the tour was a sampling station - yes, I tried all of them! We we cold and wet and that tea tasted so good! We did buy 2 bags of Orange Pekoe to bring home. We were afraid it only tasted good because we were cold and wet, but it was just as good here in the dry climate of Phoenix!
We've always had tea in the house, but not loose tea. It was so good, that I bought Terry a tea ball to make a cup of tea at a time with loose tea.

But then we started drinking more tea so I had to get a tea pot. This works very well!
Anyway.... as we were leaving the tea plantation we had a brief break in the rain.
Back in the van for a short ride. This was the highlight of the tour for me. We had lunch at a local farmhouse which is their home. Our hosts, John and Goretti Estrella were so nice and personable when they invited us into their home that they made us feel like part of the family. Here is their home as pulled up in the drive.
There was another large v an that was the original tour group that would also meet us here for lunch. The original group was full so Karen managed to get the 6 of us on a second van. I thought it worked well because the smaller van and group was easier to navigate (and find us each time we wandered off).

Anyway.... their wonderful home.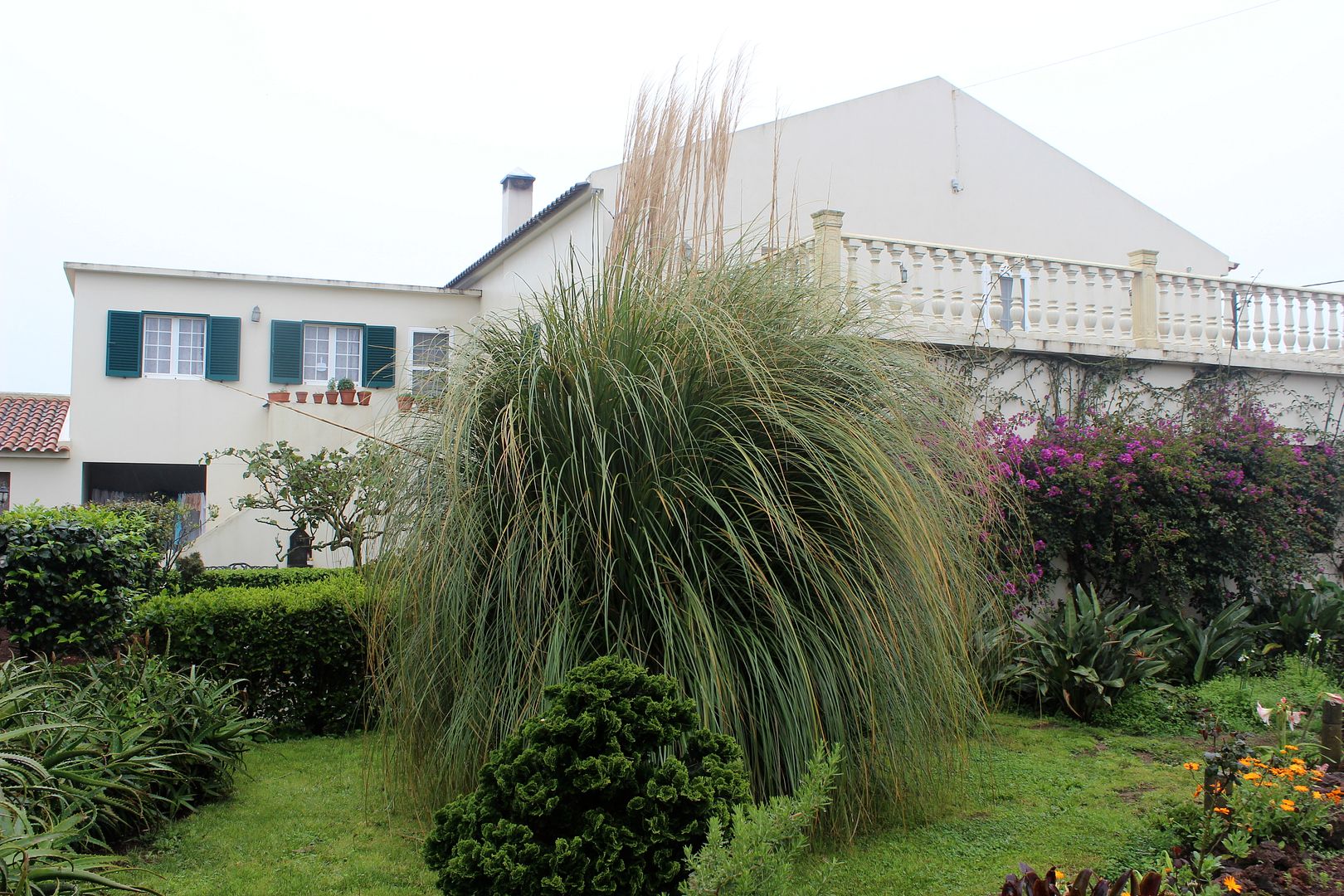 There were bathrooms downstairs and upstairs for us to freshen up before lunch.
Wonderful rustic and comfortable place.


The table prepared our large group!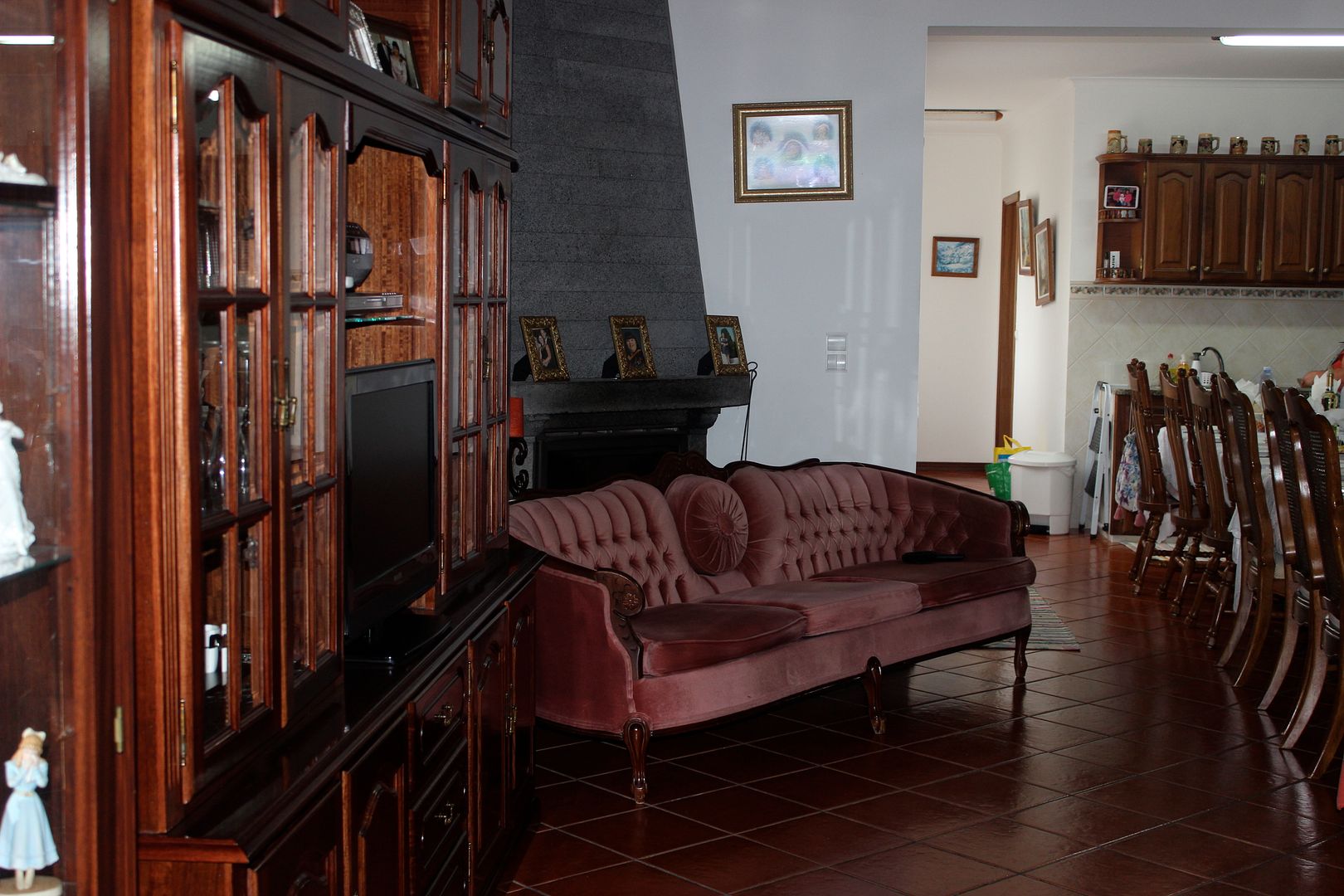 Wet and bedraggled, we still convinced Goretti to take a photo with Karen and I (I'm the bedraggled one in the Green jacket).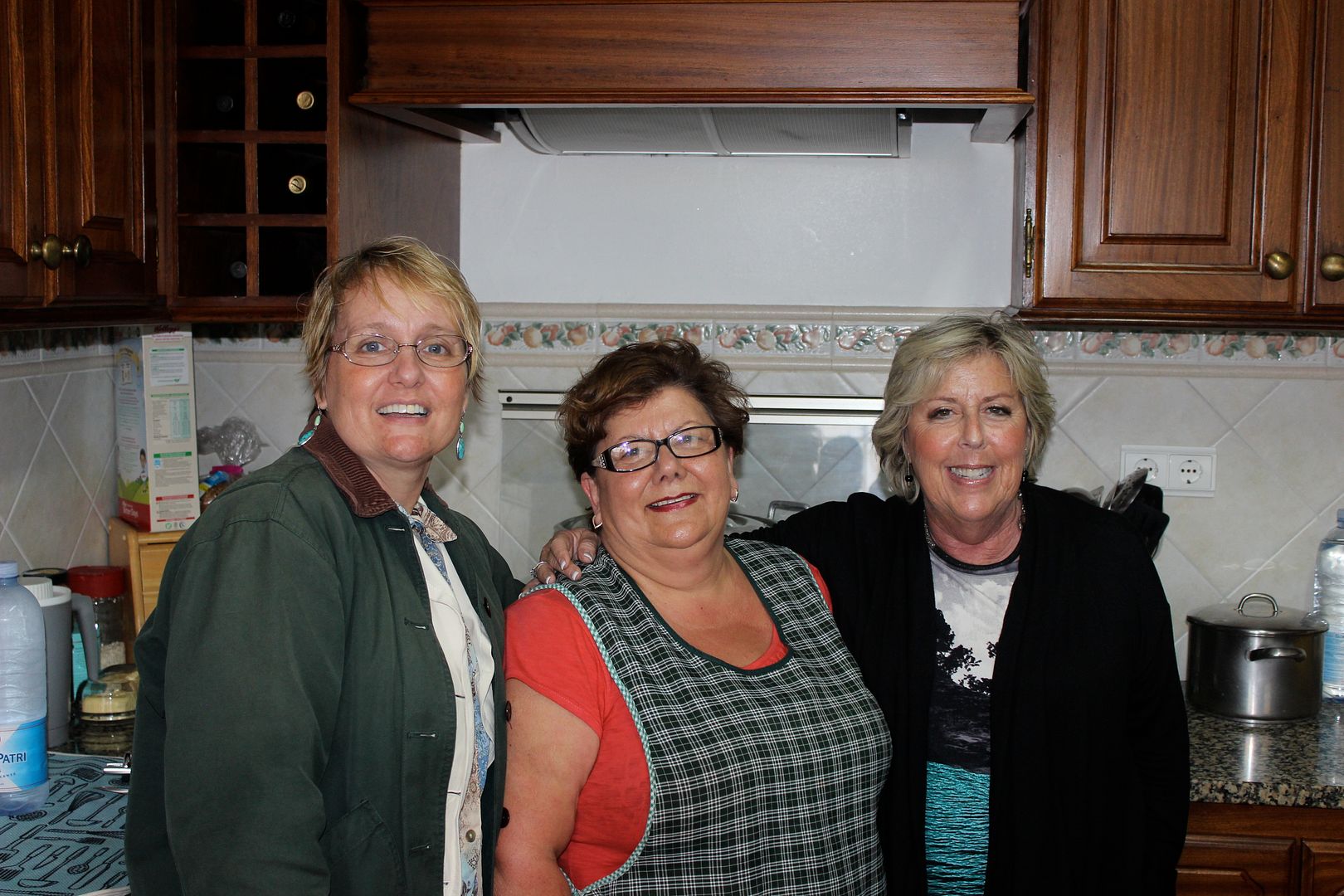 I will admit, we sat down and didn't wait for the large van to arrive. They arrived shortly but I wanted a seat on the kitchen end near Goretti so I could see all the wonderful things she was bringing out.

The table was already set with the first offerings.

This is blood sausage (made by Goretti) and local pineapple. I've been to Hawaii and so had others in our group, but sorry Hawaii.... this pineapple is sweeter! I did try a few bites of the blood sausage and although the flavor wasn't bad, the texture was strange to me. Mom - I did try it!
Also on the table was a homemade goat cheese (I could almost live on this stuff!), chorizzo and a local farm cheese, bought at the market.

My notebook has "Queijo de Cabra" witten down - I think that was the soft white goat cheese which was very mild and creamy.
There were bottles of water and 2 local wines.

A green wine Moura Basto vinho verde was made in Northern Portugal. It was a sweeter wine and very nice.
The other was Pico Wine from Pico island which was a robust red wine. I really liked this one.
An interesting cole slaw with almonds - it was OK, but I prefer the creamy coleslaw. This didn't stop me from eating a large portion.
As we ate, Goretti was preparing the next plate. Fried fish and roasted potatoes. I asked and was told the fish is stickleback.

It was good!
A quick glance at the table mates. (I felt like the baby of the group)
And the next plate of food.....Pork ribs with fava beans. These were the biggest fava beans I've ever seen. OK, I liked the red wine a little too much so my photos are getting fuzzy.
For the umpteenth time on this cruise, I realized I was way past full but that didn't matter because Goretti pulled out dessert. A few of us grabbed a quick photo before she could start platting.

This is Abava Quas or passion fruit pudding. Again, this is addictive an had amazing flavor. I wish I had thought to ask her for the recipe.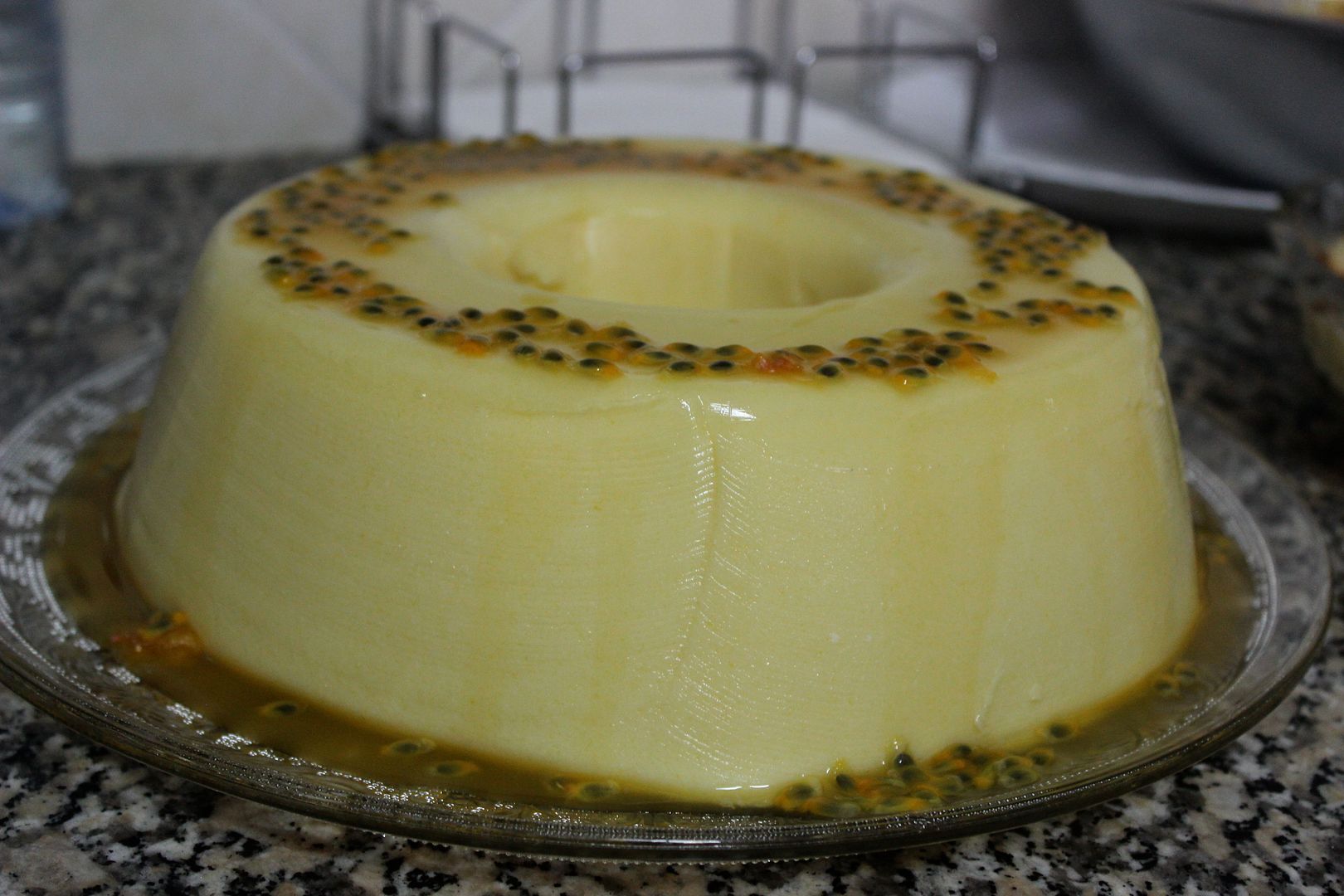 But you can't have just one dessert so she also made us rice pudding. I didn't notice at the time, but love the cinnamon rings on the top. How did she do that?
My plate!

Many of my food photos are dark because I turned off the flash so my photos wouldn't bother the others at the table. I have previously tired to change the shutter speed to accommodate but my hands are not steady without a tripod which is a bit unsightly when you are a guest at someone's table. I need my neice Ashley to help me with food photography!
John was a lot of fun and helped clear the table and make sure we had what we needed. He joked that they were a good team because Goretti loved to cook and he loved to eat.

They are such a charming couple.
So, we hurried to finish because there was only 30 minutes until the boarding deadline. We were very close to the port they assured us so after a hasty Thank you and a few hugs from our hosts, we got in the van and drove away. It only took 10 min to reach the dock and 5 min to get in which left us with an extra 15 minutes!
Needless to say... we skipped dinner that evening. We talked about going to the show (Jazz), but didn't manage more than a cup of tea and a hot shower to get warm and dry. Then we went to bed early!
Friday, May 1 - Sea day!

We slept late, very late! Ended up at the cafe for an english muffin, some fruit and a cup of coffee. I took my Ipad and we downloaded all the trip photos so far and had fun looking at them. We stayed so long they were setting up lunch. So, I made a small salad and sat back down to talk to husband. Other cruisers were sitting next to us and we ended up chatting for over an hour. I tried apricot sorbet and it was really good! They chocolate bread pudding was not.

Then we walked around a bit, I read some of my book, then we went or our afternoon "nap".

Around 8pm we went to the Ensemble lounge for a drink but listened to the music. After the set was over, we tried to get a drink but couldn't find a bartender anywhere so we gave up and went back to the cafe. Yes, we spent a lot of time just hanging out there and chatting with other people.

Dinner that night was a plate of mac and cheese which was really good, and a glass of red wine.
Ou r day in the Oceanview Cafe

Breakfast
My lunch
Terry's lunch
I love Sorbet!
These were kinda cool!
I never did try these but they have a station set up to grill anything you see.
The sushi was better than I expected but not awesome
Next...Lisbon! - Page 5