Celebrity Eclipse - April 2015 15 Day Transatlantic Cruise

Page 7



Wed, May 5 - Le Havre and our last full day of cruising.

We had reserved a rental car with Enterprise today. No other plans that that.

Picture as we got off the ship and started walking:
It was a brisk walk in the wind.

We walked past the fish stalls - about 9am or so an they were just a few open.
Yeah, we found it!
I only remember a few words of French and they only knew a little English, but we got it done. I had done my research and knew that cars in Europe seldom have automatic transmissions, but that was OK, I am married to an awesome car guy who has probably driven or raced almost anything on wheels (in his younger days).
So.... our car!
Being a bit paranoid, I took photos of the car including the chipped hubcap in case it came back later. They have an interesting little guide. Its a rectangle a few inches long with a round circle cut out of the middle. Any scratches or damage larger than the circle, we pay if they are on the sides, hood, trunk or top. Anything on the bumpers bigger than the rectangle in damage - we pay. Very generous compared to the US companies.
I had purchased a used Garmin on Ebay with Europe maps so we entered the town of Hornfleur and headed out. I really don't like heights so of course we had to go over this bridge. It even cost us over 5 Euros each way.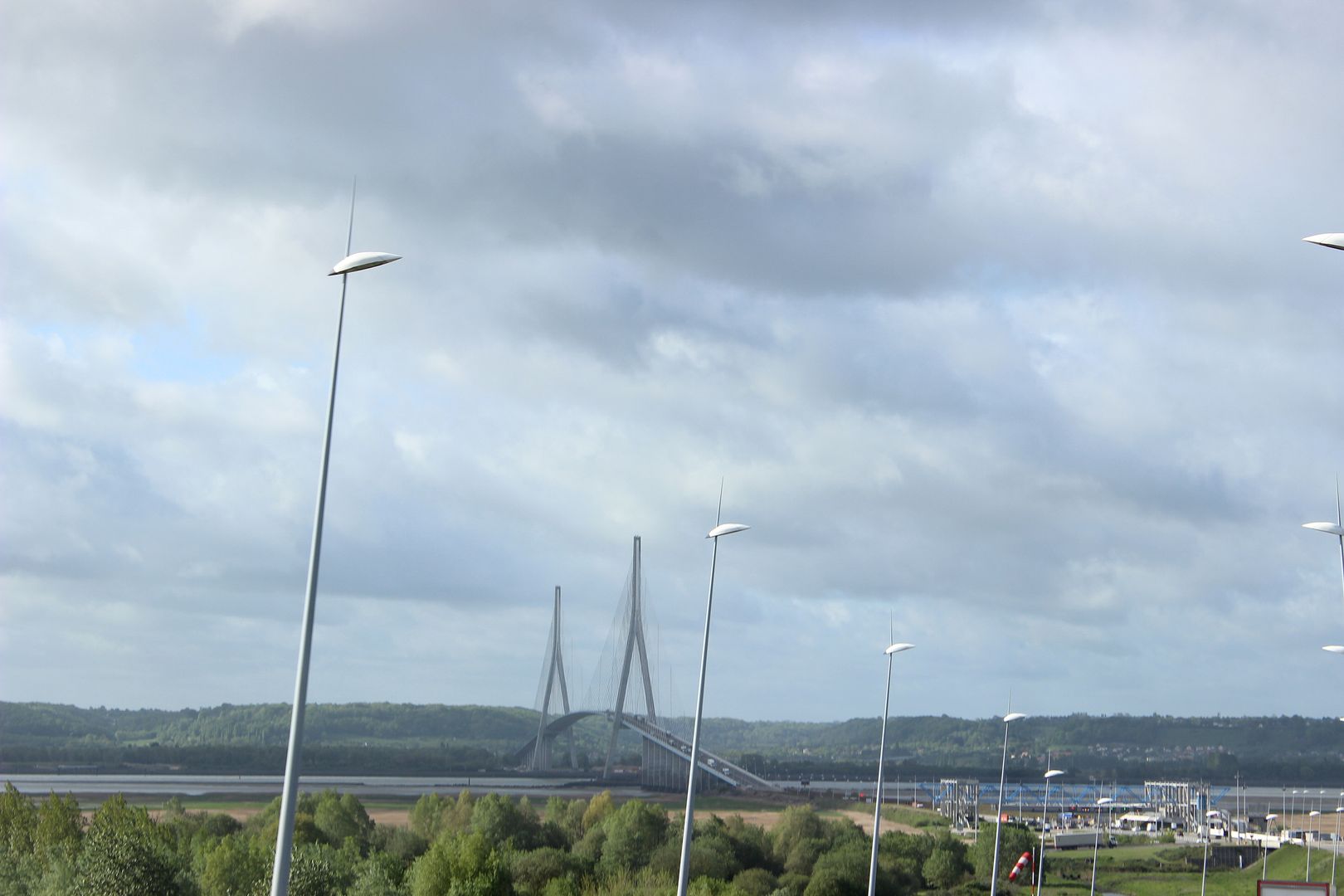 So we got there, drove around in circles a few times until we figured out the place and found parking a bit of a walk away from the center. Then took some more fumbling to figure out the parking system and how to pay the meter. But we did it and got to the river and found the docks.
So the rental car, the driving and the parking were a bit stressful to get started - it was much easier after we had gotten used to it.

However now was time to have a good cup of coffee and enjoy the atmosphere. They had a crepe place though and I couldn't resist!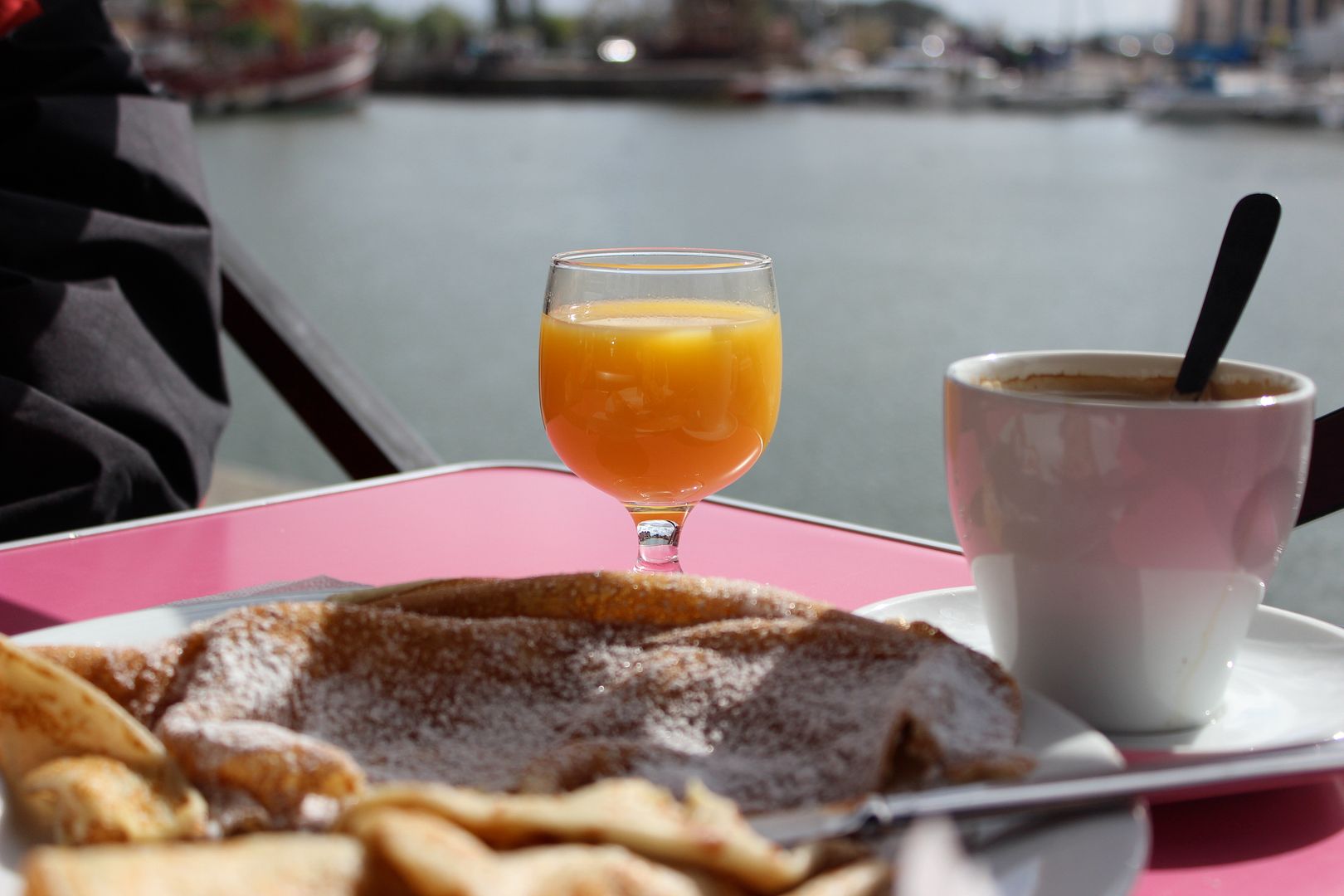 My best friend (and husband)
My brother in law Brian would love this place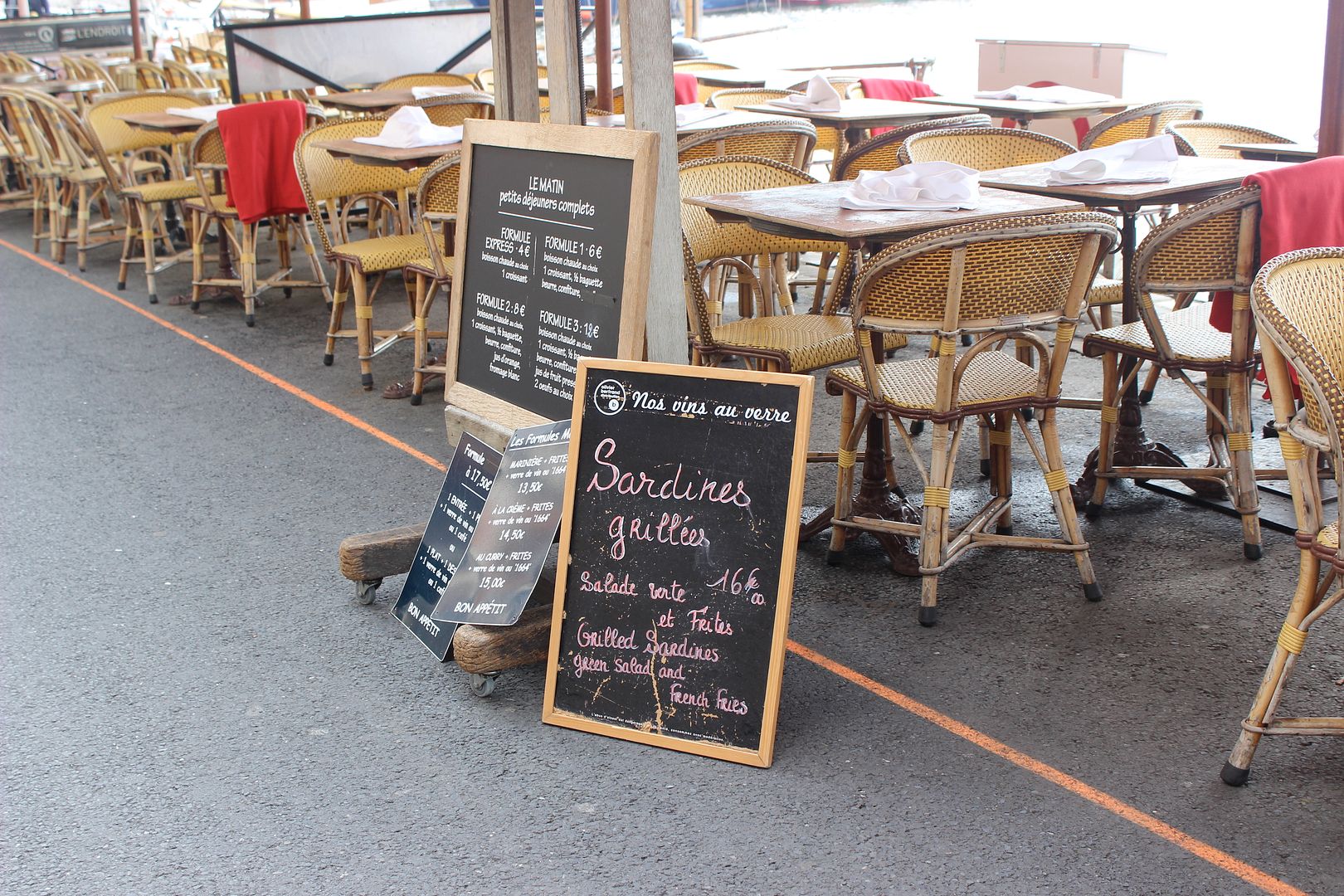 So, back to the car and we tried looking at the map to figure out where to go next but nothing jumped out so we just started driving and did the "I wonder where this road goes" thing.
We did use the GPS to make sure we weren't getting tot ally lost and actually ended up on the beaches near Normandy.

Terry picking up more sea shells for our friend Cathy Phibbs.
We ended up at the beach when Terry wanted to see "where does this street go". We didn't have the GPS turned on until we hit the dead end which was the ocean! Then we turned on the GPS to find out our location. This was actually a lot of fun!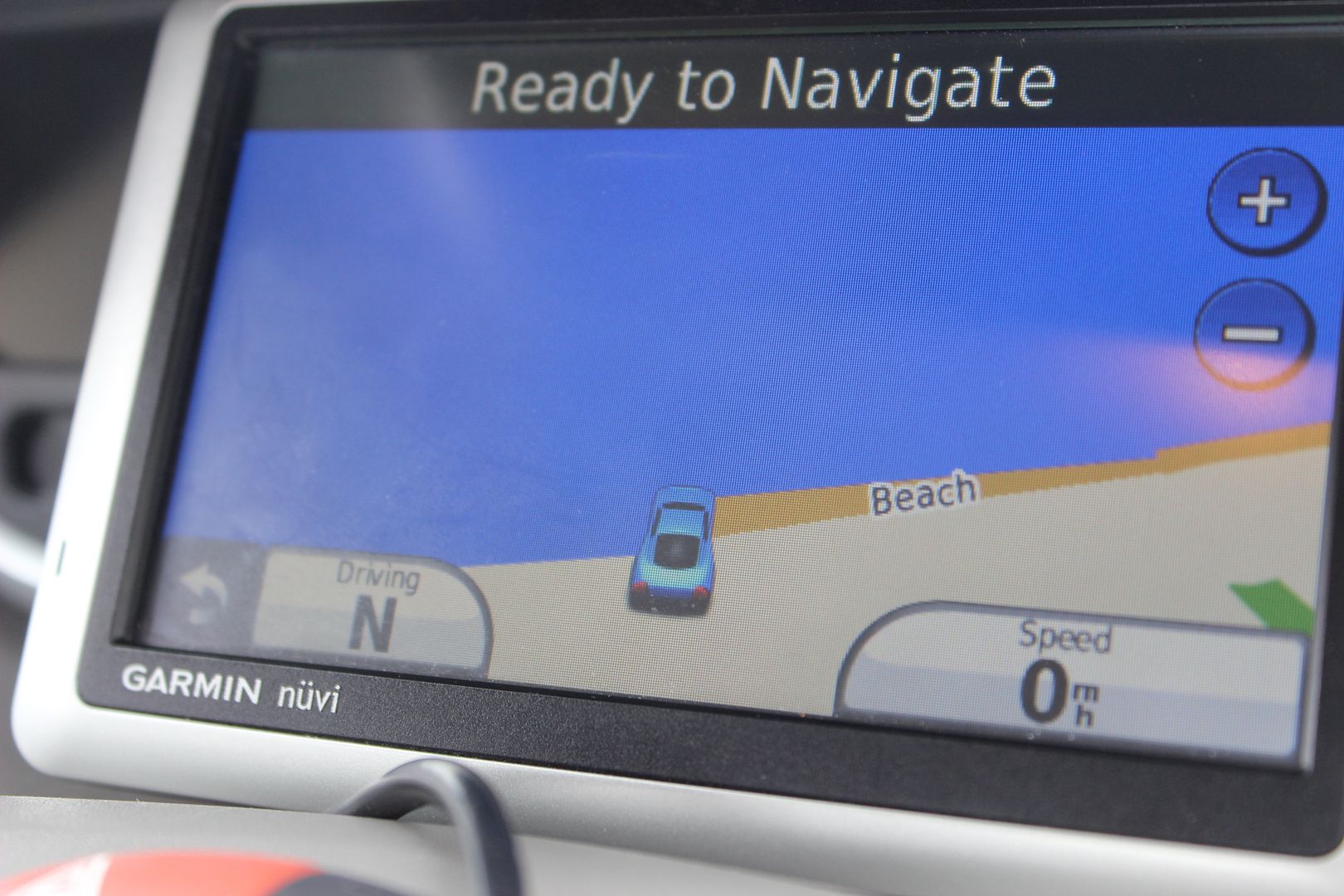 We had fun on the beach but it was cold and windy. So back in the car and we used the GPS to find roads that ran along the ocean. We were cold and it was lunch time so we found a small town AND a parking spot. Of course it was Italian food, but we love pizza!
Again, my French was inadequate and they spoke no English so instead of ordering a cheese pizza with ham, we ended up with one cheese pizza and one ham pizza. Parma ham of course!

They were so good!
Packing up leftovers
Even in the rain, it was a very nice drive.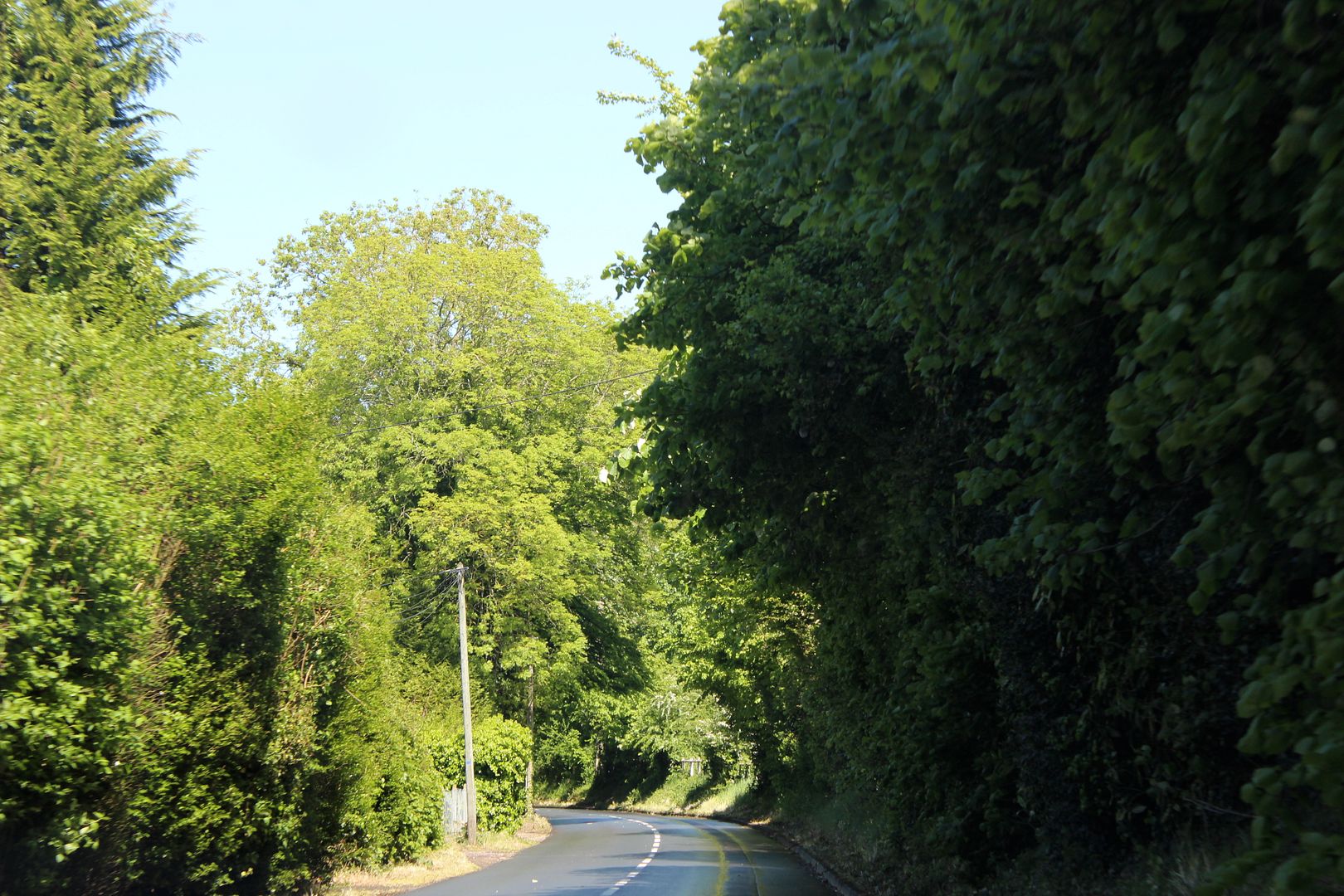 We drove through lots of small towns - it was so picturesque.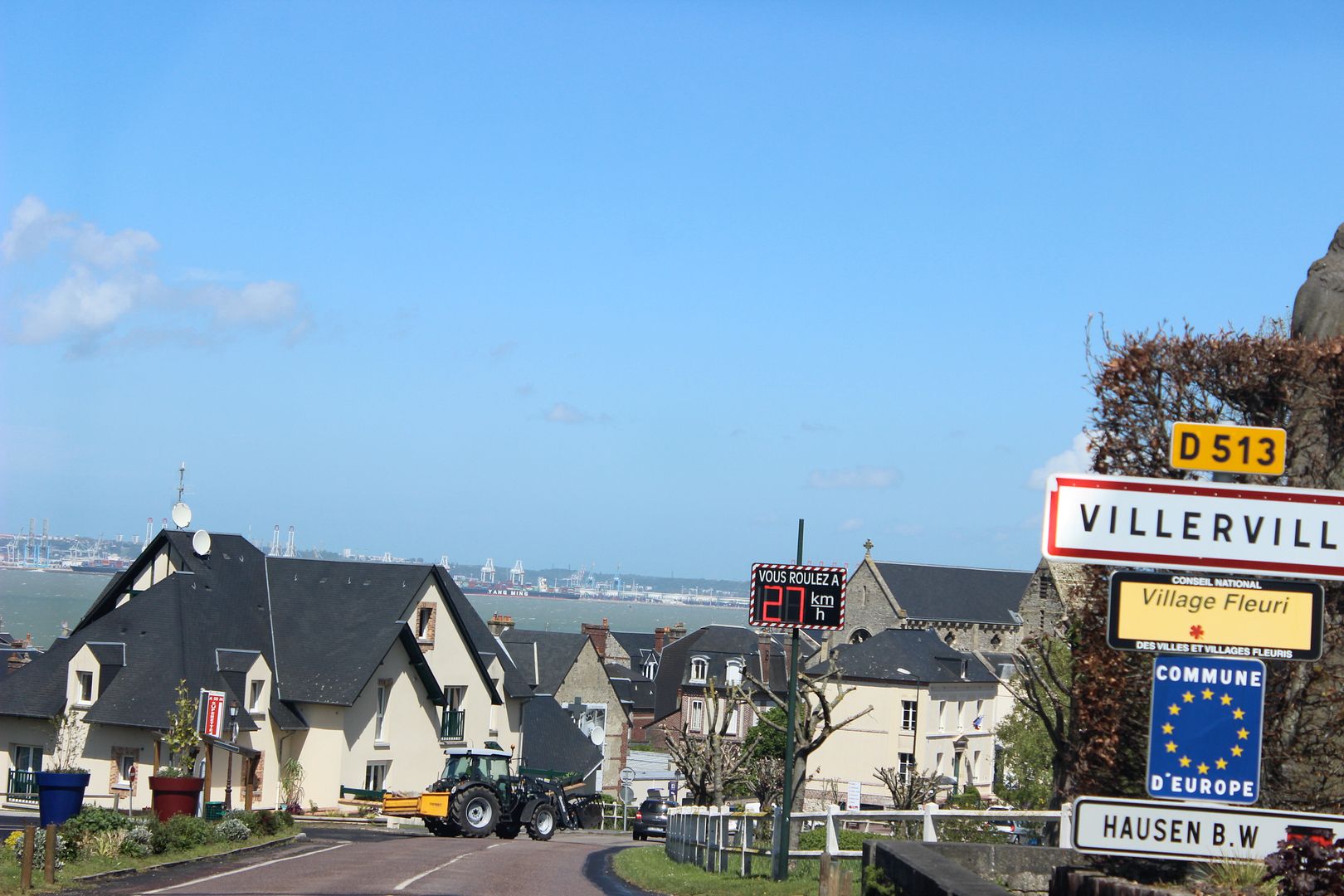 And outside that town was a completely different landscape.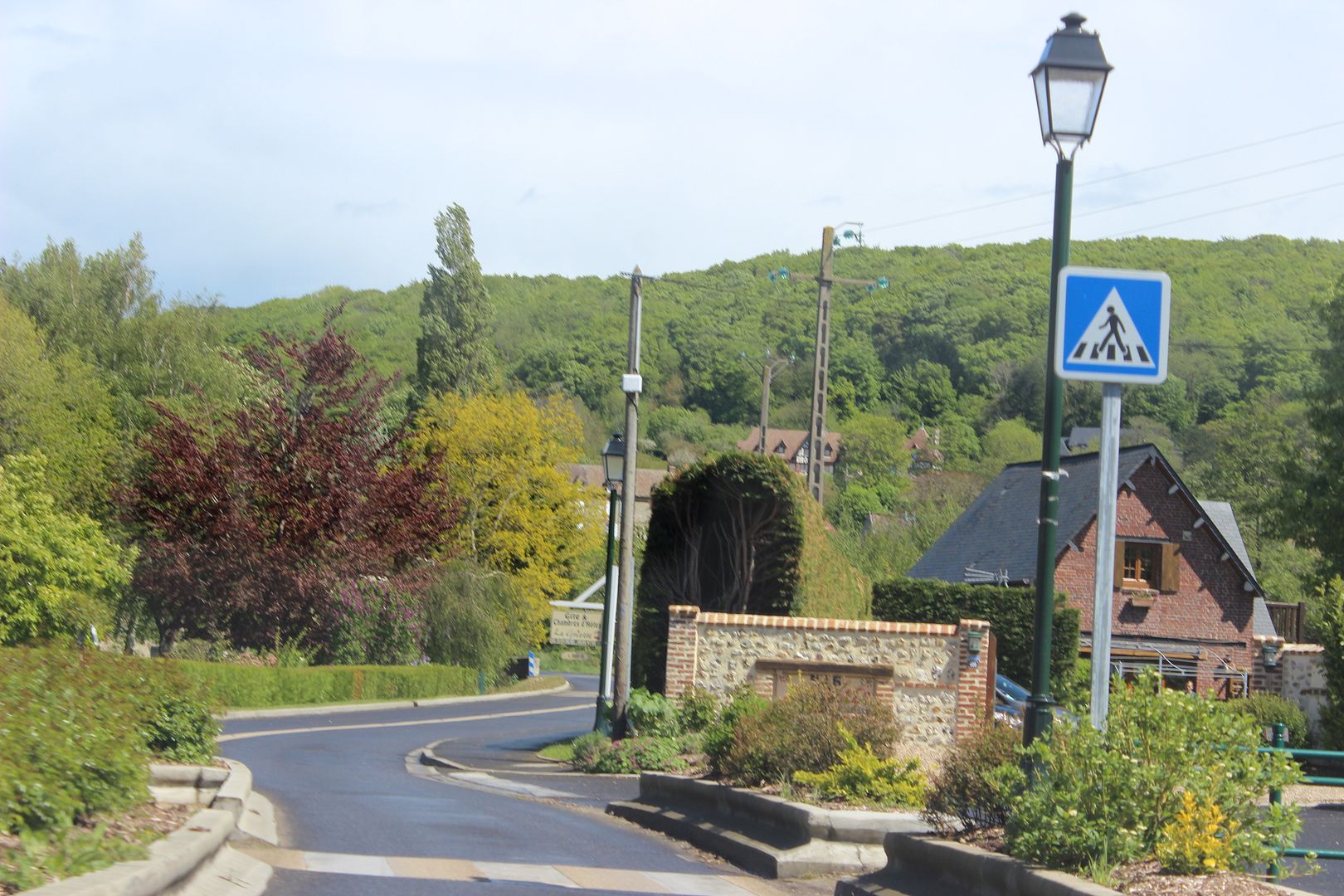 But, after all that driving, we found ourselves back in Hornfleur with lots of time to spare so we parked, now that we knew the system, and walked Hornfleur some more.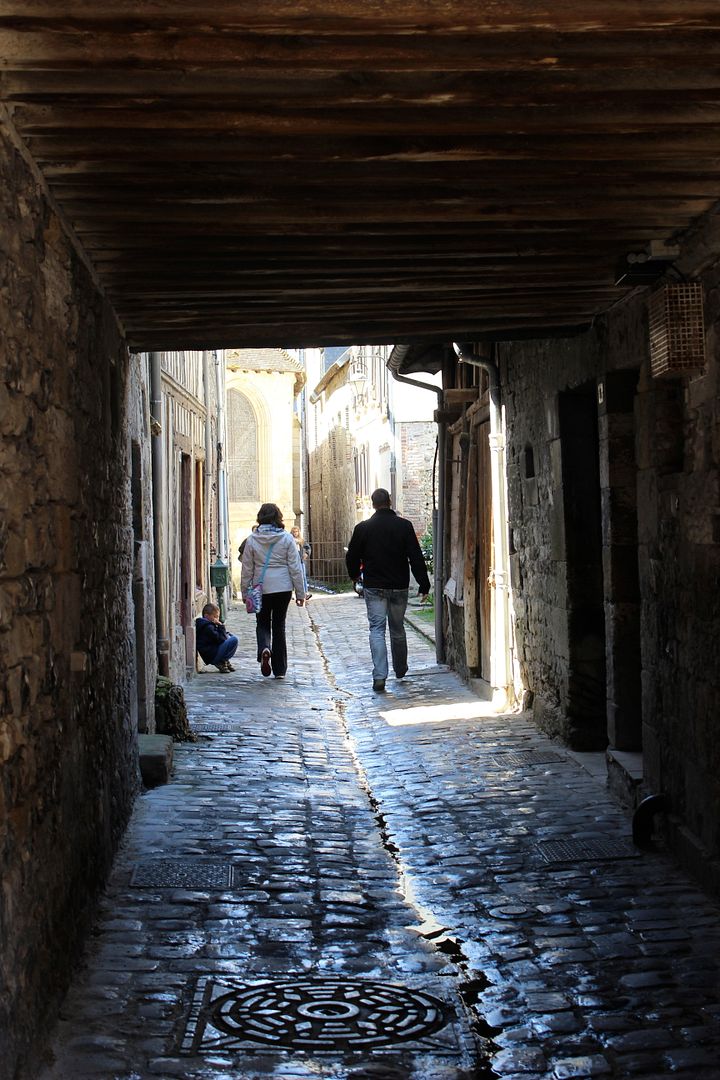 I loved the sidewalks. I was wearing heels and Terry had to hold my hand so I didn't miss a step as I wasn't always looking where I was walking. There was too much to see!

We went to 2 pharmacies trying to buy Tylenol with no luck. Apparently the only pain reliever you can buy in France is an NSAID. We did find our Christmas ornament though!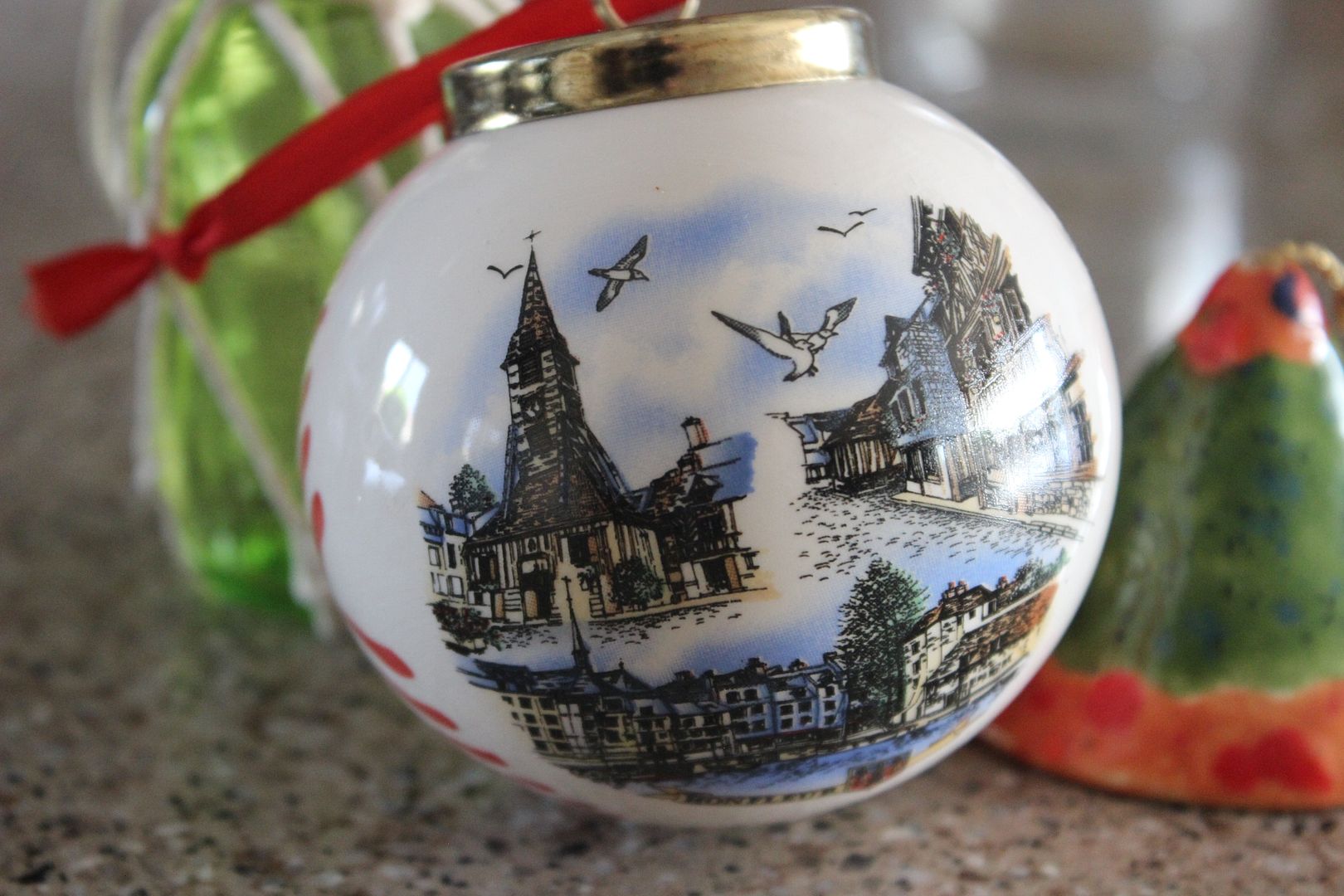 So we headed back to the port to return the car. I was afraid a few times that I would have to get out and push. The car didn't seem to like going up hills. When we did return it, I looked at the type and googled it. Says its only 75 hp. That would explain it!

We returned the car, they checked us in and I asked about a ride back to the ship. We were tired. The young Frenchman was very nice and actually drove us over himself in the little car we had just rented. He dropped us off right at the gate to the port!
We took our leftover pizza only to find out you aren't supposed to bring food on the ship. Uh oh, bad Lisa.
We gave it to the security guard from the port who had admired it on our way in. Guess that means I wasn't supposed to bring the Spanish cheese on either.
Oops.
We were back onboard at 5:30 pm and went to the cafe for a hot cup of tea. I took some photos of the Cafe since we spent so much time there but I was focused mostly on the food!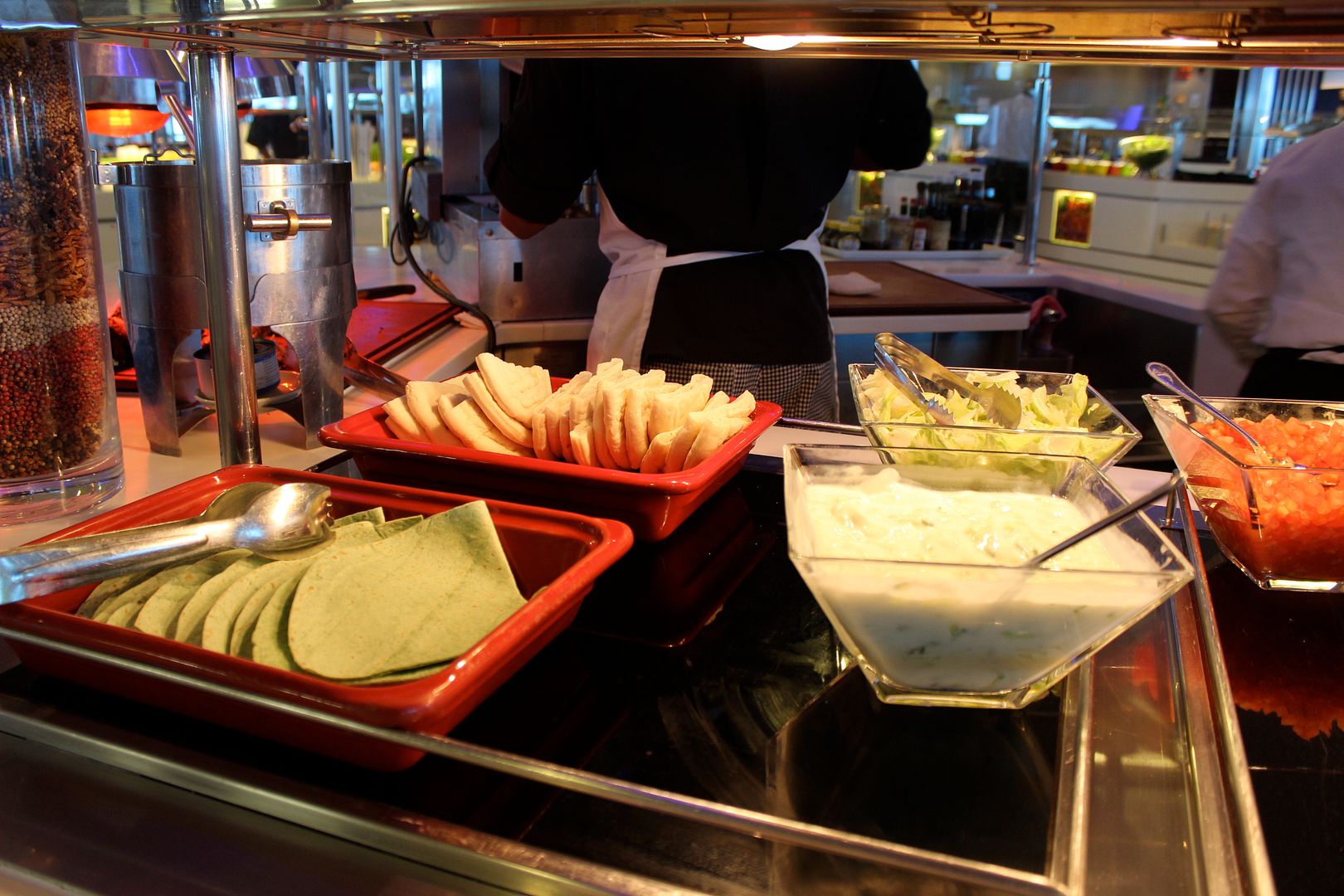 I didn't try any of these but they looked good.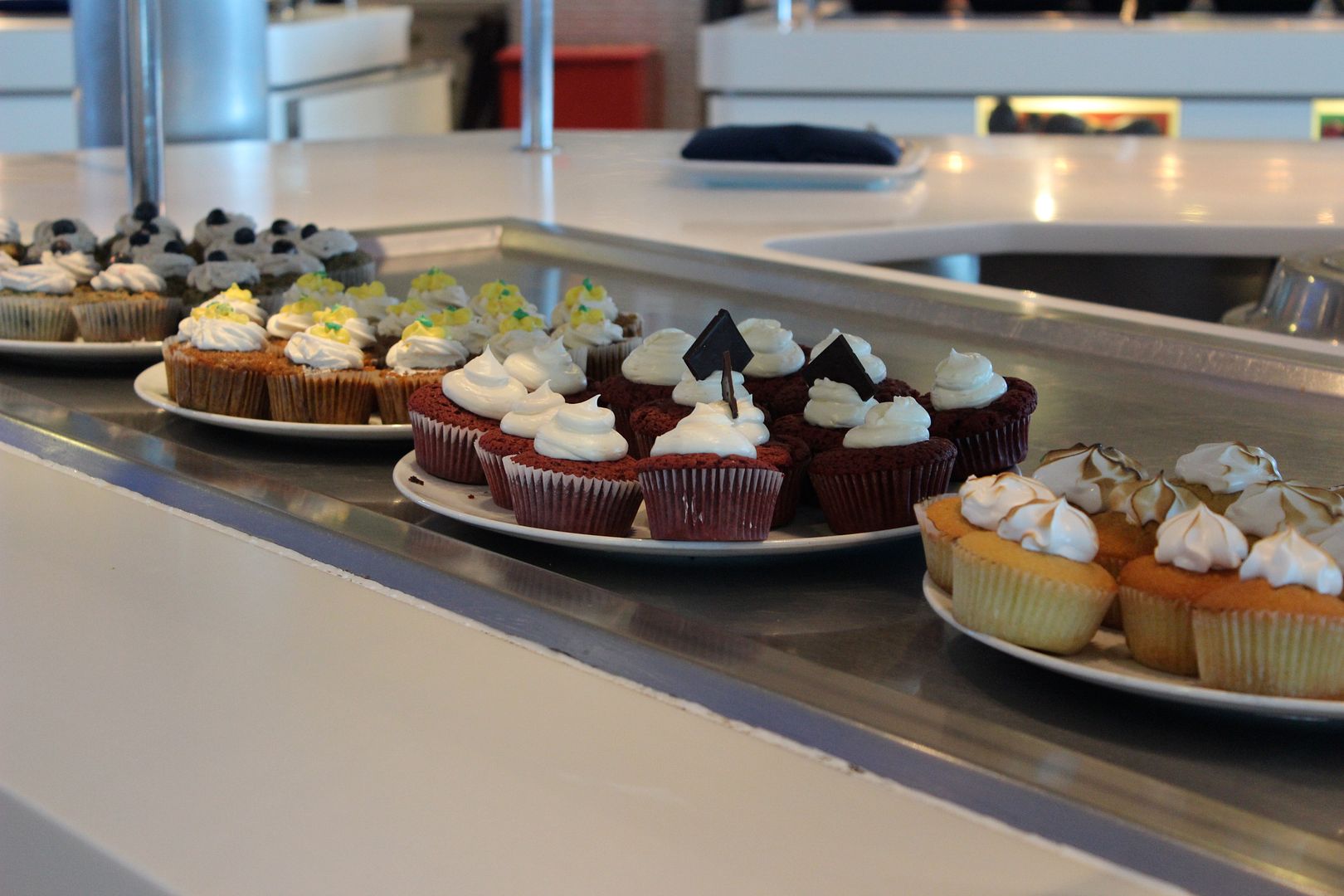 I did try these and they were VERY good - pears soaked in red wine.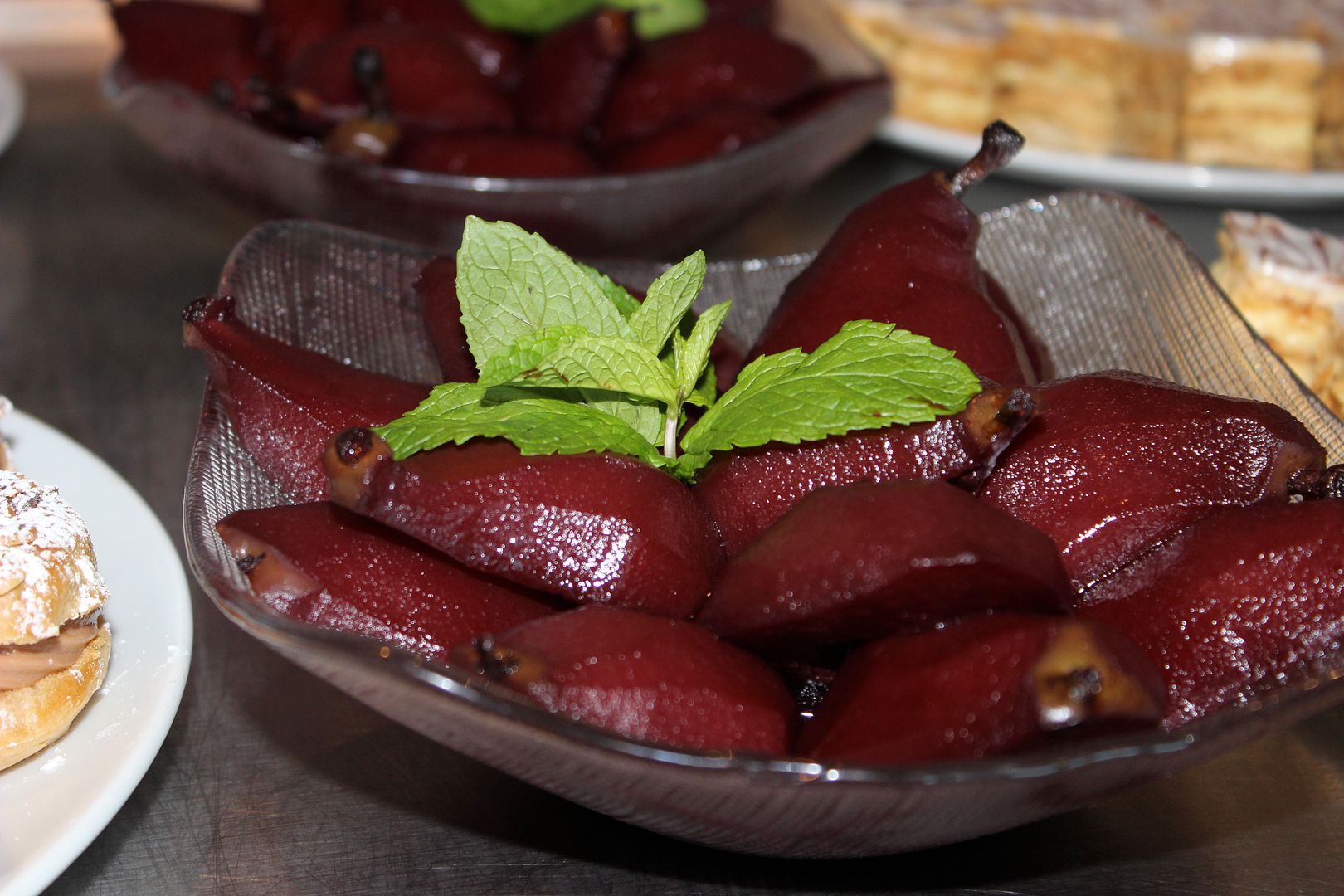 One whole section of the buffet was just whole fruit - wondered if it was because it was the end of the cruise.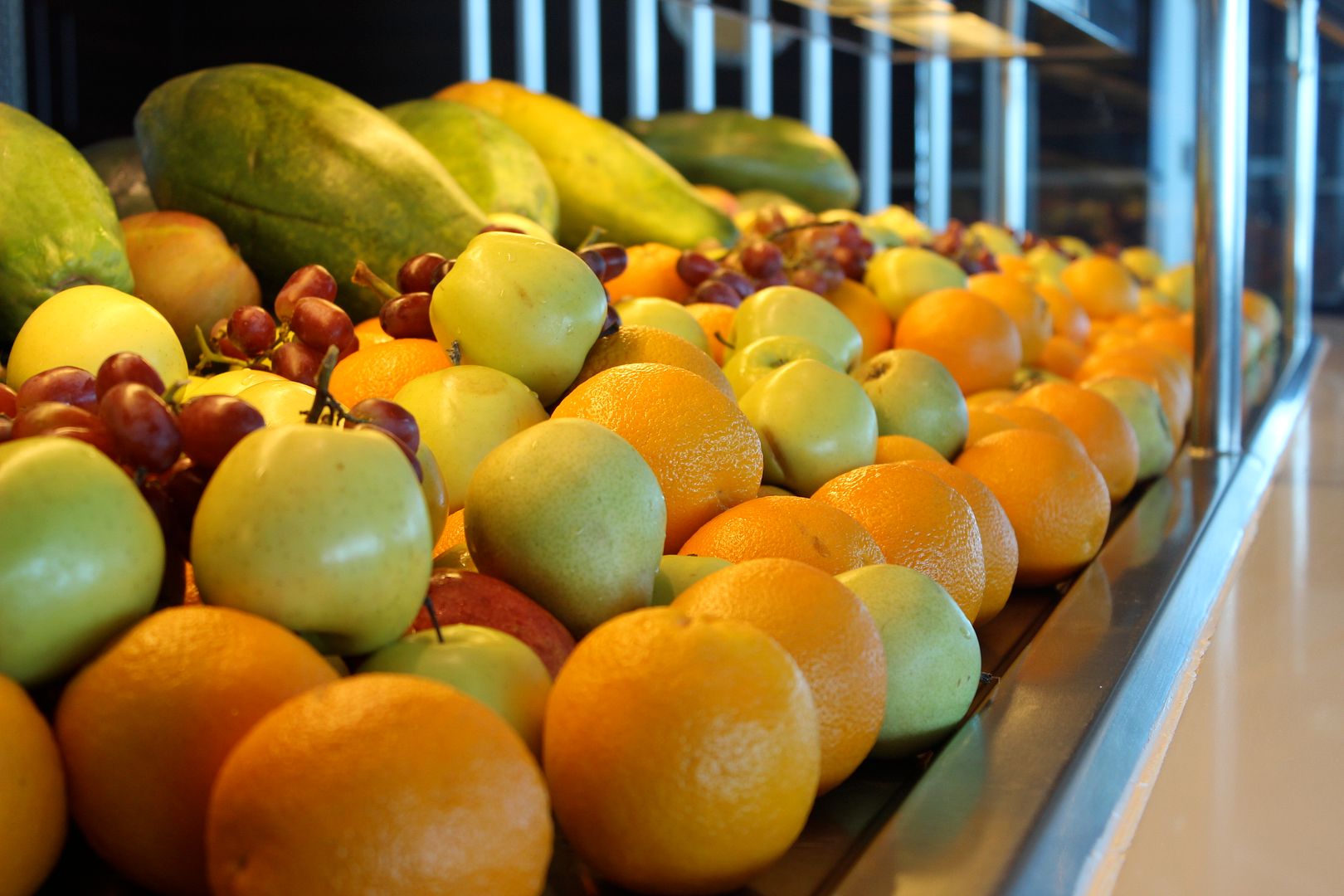 They periodically did several ice sculptures - but I only managed one photo on this day.

I saw them carrying a Croquembouche through the cafe and followed them so I could get a photo!


Despite all the sweets, I opted for a final bowl of sorbet - raspberry tonight.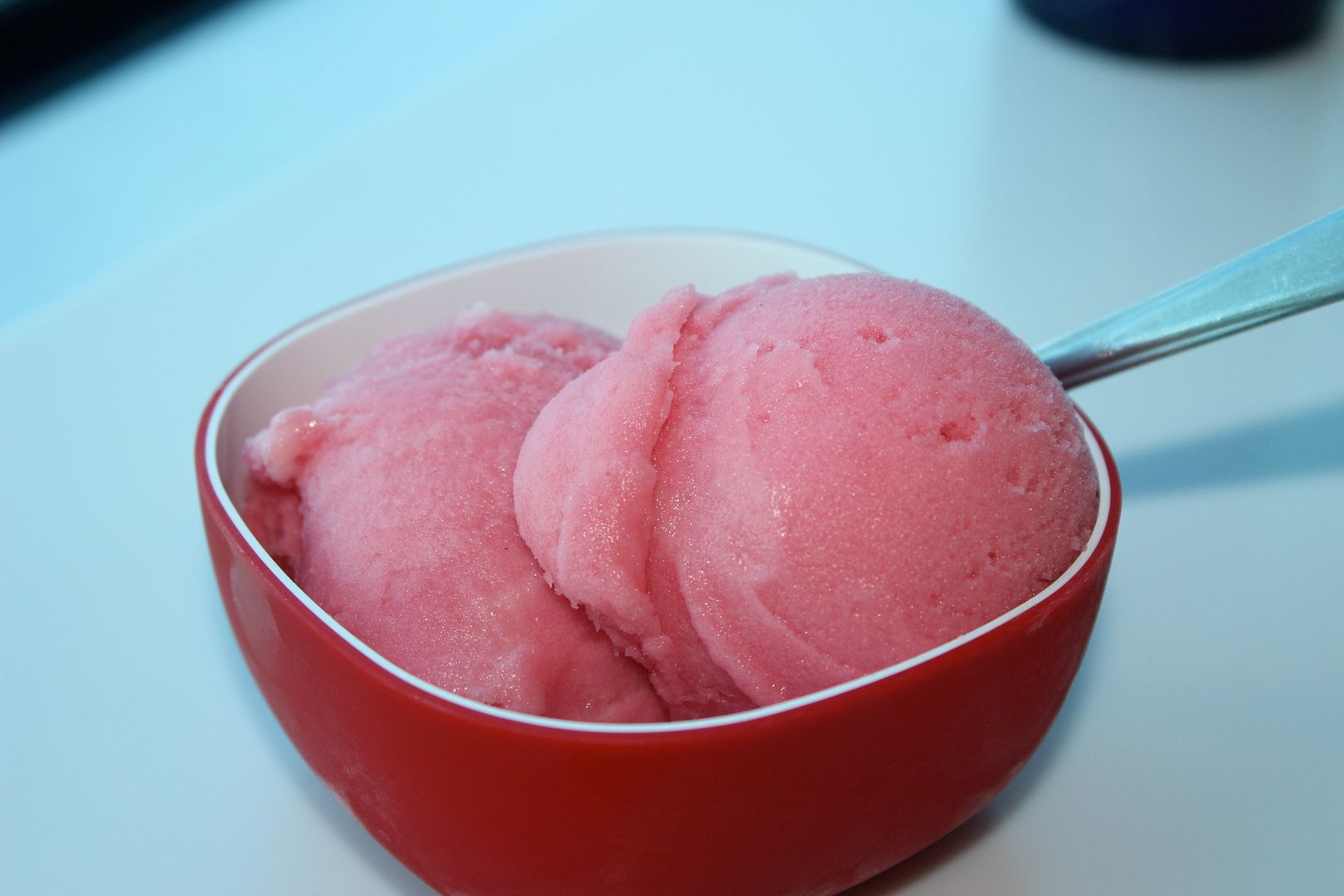 Back to our cabin to pack our bags.


Bags packed and set out as directed.


Our final night on the Eclipse.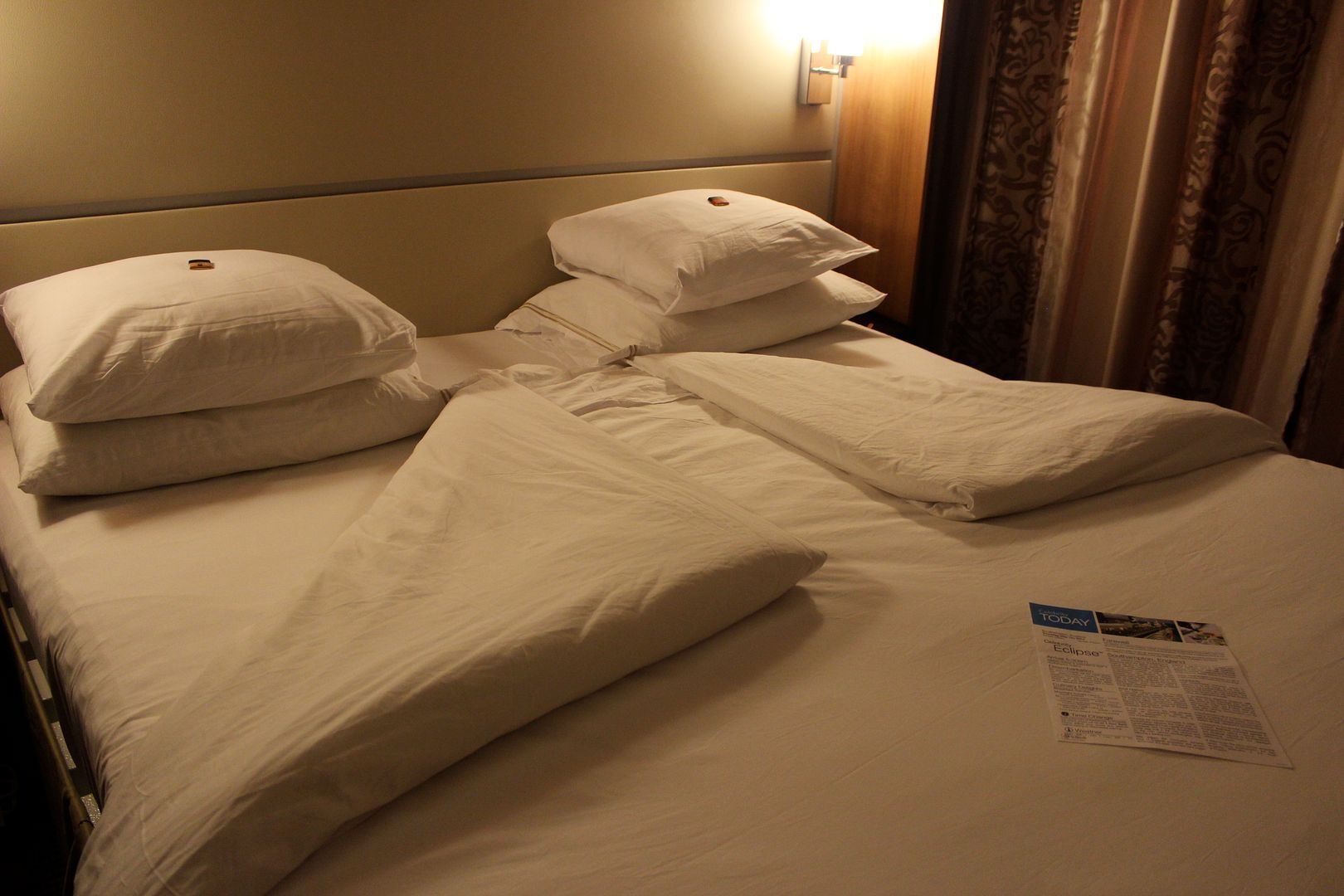 Next....London! - Page 8